The Alex Colville Exhibit will open Saturday in Toronto at the AGO, the Art Gallery of Ontario, and if the member's visits this week are anything to go by, this will be a crowded run, from August 23 until January 4, 2015.
Many Canadians have grown up with Colville's images; we've seen them as album covers, book covers, and it was his images that graced our coins for the centennial celebration in 1967.
'The universal springs from the particular'
Colville died last July, at the age of 92, not quite a year after the death of his beloved wife and muse, Rhoda.  This exhibit of over a hundred pieces, is the largest gathering of his works ever, many of which have been in private collections and haven't been seen publicly in a very long time.
Listen
Shiralee Hudson Hill, is the interpretive planner at the AGO and she has a special connection to this exhibit.  Like Colville, she is from the Maritmes and she went to Mount Allison University where Alex Colville taught for twenty years.  She says his landscapes resonate with her.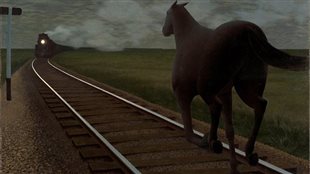 Shiralee Hudson Hill quotes Colville when he said "the universal springs from the particular" and it's this quality that has made his work so popular around the world.
The exhibit will open at the National Gallery in Ottawa in 2015.