Two Canadian doctors say the issue of concussions in sport, especially in children is epidemic in scope and has become a public health ethical issue.
Dr Paul Echlin, is the primary care sports medicine specialist at Elliot Sports Medicine Clinic in Burlington Ontario
Listen
Dr Echlin is co-author of the article on minor traumatic brain injury (mTBI) along with Dr. Ross Upshur, director of clinical research at Toronto's Bridgepoint Health. Their paper appeared this week in Neurosurgeon, an online publication of the American Association of Neurological Surgeons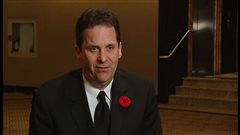 He says there is now more than ample evidence to show the dangers of concussions along with repeated mild blows to the head.
"If you know what's going on and you refuse to do anything major or significant about it, then you're ethically wrong," said Echlin. "It shouldn't be silent anymore, it is an epidemic in our youth culture, in sport. Sport was made to … improve the culture of fitness, and socially, but not to cause long-term impairment, not to promote violence which is the underlying factor of a lot of these head injuries."
The paper notes that concussions represent from 5.5 percent to 22 percent of all high school athletic injuries.
It says that there continues to be cultural resistance to the non-biased documentation of the incidence of this injury.
Dr Echlin says the issue of concussions goes beyond the control of various sports authorities and should be a public health issue controlled by laws.
He would like to see dramatic rule changes such as an elimination of all deliberate head contact, and minimizing incidental head contact. Other changes might include reducing the number of players active on the field or ice at any time, and larger playing surfaces to reduce possible collisions, and eliminate "heading" in soccer.  The paper suggests enforcing significant suspensions to participants or supervising adults involved in games in which head injuries occur
The paper suggests that although less documented, mTBI has a cost to society in mental and physical injuries, and reduced productivity.
The paper concludes with the statement " Our children should have the right to play at all levels of skill in an environment without fear of brain injury from intentional "win-at-all-costs" violence, or unrecognized repetitive trauma."
Halton District School Board concussion programme