In a symbolic coincidence of events, October 21 is an important date for Canada's Navy.
It's the date of commissioning of Canada's first official warship, and the date an artefact related to the ship was unveiled.
The first modern warship of the 20th century for Canada's fledgling navy, was the HMCS Niobe, an 11,000-tonne armoured cruiser purchased by Canada from the Royal Navy (RN). The warship entered into Halifax Harbour on October 21, 1910, having steamed across the Atlantic from Portsmouth, England.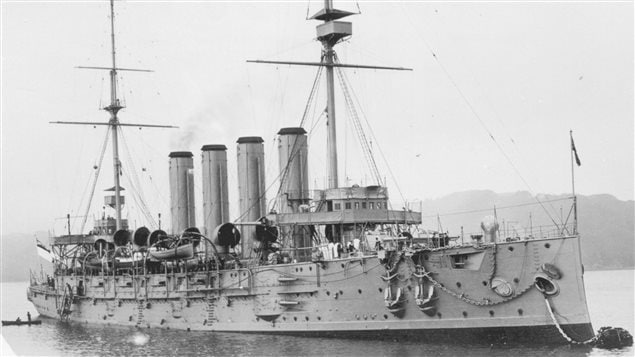 Indeed that date was symbolically timed to coincide with the 105th anniversary of the Battle of Trafalgar in order to symbolize the transfer to the Naval Service of Canada of the intangible and priceless winning tradition of the parent Royal Navy.
In September of 1915, the ship was paid off, and tied up at Halifax harbour where it became a depot ship.
In December 1917, the ship was less than a kilometre from the incredible explosion of a munitions ship which destroyed much of the city. Tragically several of the crew were among the massive number of deaths while the force of the blast tore off two of the ships four funnels, broke windows and caused much damage to the superstructure. The huge wave of displaced water ripped the concrete-embedded anchors of the vessel and it began to drift away.
Soon brought back into position, three new anchors were used to hold the ship which remained as a depot vessel until de-commissioned in 1920, and broken up for scrap in 1922.
It is believed the anchor discovered during demolitions along the government dock is one of those original anchors.
It's discovery was officially announced today, October 21.