On or shortly after November 14, one of the best known sailors ever, disappeared and was presumed drowned at sea in 1909.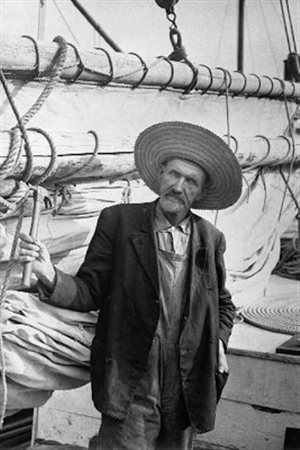 Born in 1844 in Nova Scotia with its well-known sea-faring traditions, Joshua Slocum (Slocombe) took to the sea at age 16 aboard a merchant ship to Ireland. From there it was a lifelong adventure on the sea travelling to ports around the world.  During an extended stay in the US he became a naturalized American.
He is best known as the first person to sail single-handed around the world in a decrepit New England oyster boat, the Spray, that he rebuilt and redesigned almost entirely.
Later, as a reward for his good service, a shipping firm he worked for eventually gave him his own vessel, and that gave him the freedom and autonomy he sought.
After a series of other ships, he also began to write about his adventures, in the Voyage of the Destroyer, Voyage of the Liberdade, and by far his most famous, Sailing Alone around the World published in 1899.
The book has never been out of print, a tribute to its enduring interest for sailors and those who dream of escape. Because of it's popularity, Sailing Alone has also inspired the building of literally hundreds of Spray replicas over the decades since that original epic trip.
Slocum and Spray disappeared under mysterious circumstances with some saying his ship  was run over in the night by a steamer somewhere in the West Indies.
Although he died more than 100 years ago, there are more than a few websites dedicated to him such as the JS society  and of course JS.com   and many many others.
To this day his exploits remain legendary
 Excerpt from "Sailing Alone Around the World" here