When winter batters us with bitter winds and relentless snow, baseball fans have always had the luxury of escaping to dreams of summer on December days.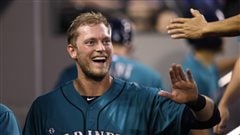 Major League Baseball's annual winter meetings have long provided the soothing–and needed–elixir for those of us stuck shovelling out our cars from under what seems like ten feet of snow.
For a brief week, baseball returns to our sports pages and radio talk shows as general managers gather in some warm haven to make trades designed to get our hopes up–once again–that maybe, just maybe, this is the year our favourite team will finally put it all together and make it to the World Series.
This has been that week. Baseball's winter meetings, held this year in San Diego, California, wrapped up on Thursday.
Canada's team, the Toronto Blue Jays, made no deals in San Diego. But Toronto General Manager Alex Anthopoulos had a pretty darn good run-up to the meetings, good enough to provide more than a glimmer of hope.
Anthopoulos acquired two top-notch veterans: catcher Russell Martin from Pittsburgh and third baseman Josh Donaldson from Oakland. If both play to form, the Jays take a great leap forward at both positions.
This year's Jays will bring more focus on defence and, get this: Canadians.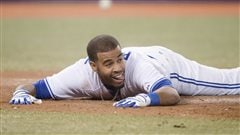 If things go as planned, there will be at least three Canadians in Toronto's starting lineup: Martin, a splendid catcher and impressive clutch hitter grew up in Montreal, the son of jazz musician. He is considered an excellent handler to pitchers and a clubhouse leader.
Mississauga, Ontario's Dalton Pompey, a speedy streak of an outfielder who is said to have a decent bat has been handed the centre field job. Flanking him in left field will be Victoria's Michael Saunders, a well-regarded defensive outfielder obtained from Seattle, where that club's big ballpark put a damper on his power numbers. The Jays are hoping the smaller Rogers Centre will bring out Saunders's power potential.
Throw in Vancouver's Jeff Francis, a veteran southpaw who signed to a minor-league contract, and the Jays at some point this summer could have four Canadians on the field at the same time. (Take that, hockey fans!)
There's talk that Donaldson (acquired for–among others–Langley, BC's Brett Lawrie) could be the steal of the off-season. While definitely not Canadian (he's a US Southerner), he arrives highly regarded, many saying he was Oakland's best player last season.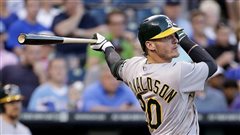 Like Martin, Donaldson has a history of playing virtually every day plays, a big change from the oft-injured Lawrie. Like Martin, he carries the reputation of a clubhouse leader.
Throw these guys together with long-time leader and slugger Jose Bautista in right field and DH Edwin Encarnacion and you've got a lineup with some pop, speed and better-than-average defence.
Anthopoulos and Jays fans are hoping Martin behind the plate and more speed in the outfield will do wonders for the Jays' erratic pitching staff. The jury on that matter is still out.
Still, optimism is the bedrock of baseball's DNA. Mission accomplished, Alex Anthopoulos. (At least for now.)
For more details and some thoughts on all this activity, RCI spoke to Toronto Star columnist Richard Griffin at the winter meetings in San Diego.
Listen