Since long before Canada was a country, Canadians across the entire country have enjoyed to fun of sliding down the hills in city parks.
In recent years however,  a couple of successful lawsuits against cities by people who have injured themselves on publicly-owned hills, have prompted more and more municipalities to close off their hills out of fear of a lawsuit.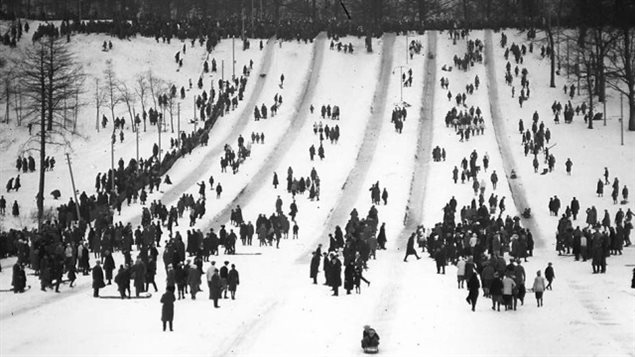 In 2001 the city of Hamilton instituted a bylaw against sledding on public hills.
Offenders caught tobogganing on city property face fines ranging from $105 to $5000.
John McLennan, Hamilton manager of risk management services is quoted by CBC saying, "The legal environment, particularly for municipalities, has changed considerably in recent years. Injured parties are now much more inclined to sue for damages, and, in turn, the courts have placed a very high degree of responsibility on property owners to protect users, even in situations where they have not been invited onto the property and/or when they are not exercising reasonable caution," writes McLennan.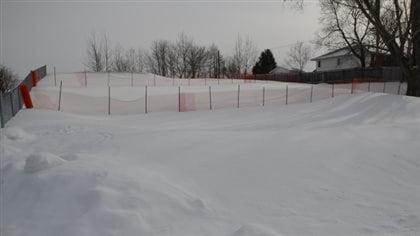 "As a result, municipalities are now faced with the prospect incurring large damage awards against them along with a corresponding dramatic rise in insurance premiums if the risk is not properly addressed."
In 2004, a Hamilton lawyer, now in his late 40s suffered a spinal injury after sliding down a hill and hitting a drainage ditch concealed by snow.
In 2013 he was awarded $900,000 in damages.  The lawyer said he was unaware of the city bylaw, and the judge ruled Hamilton should have done a better job enforcing the bylaw.
Hamilton artist, Laura Cole, 25, has begun a petition against the bylaw and has collected about 1,300 signatures so far.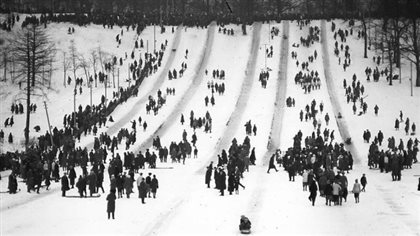 Cole said any injury is part of the inherent risk of the sport. She said if you break a leg skiing at a resort, "It's your fault. You accept that risk, and you know, it happens. I think we should all accept that risk if we so choose."
For several years Canada's largest city Toronto,  hired off-duty police on weekends to patrol a popoular sledding hill at Centennial Park, located directly adjacent to a city ski hill.
Following an injury and subsequent lawsuit last year, the city of Sudbury in northern Ontario recently closed an unofficial sliding hill which had been a popular winter fun site for many years.
 Tobogganing- 1999 radio documentary by the late Bob Carty CBC producer, Ottawa
With files from Jeff Green-CBC