He was one of the greatest creators of what is known as easy listening or 'middle of the road" (MOR) music.
Percy Faith died on February 9 1976. If the name is not familiar, his music certainly is, still quietly played as background music and on specialized radio formats to this day.
Percy Faith was born in Toronto in 1908. Learning piano and violin as a child becoming known as a prodigy. He later played as a film-theatre pianist and recitals at Toronto's renowned Massey Hall.
When his hands were burned in a fire at age 18, he turned to conducting and arranging, becoming a staple at the public broadcaster, Canadian Broadcasting Corporation (CBC) from 1933-40 during a period of live musical broadcasts
He then relocated to the US, and began arranging for many stars of the 1950's including Doris Day, Guy Mitchell, Tony Bennett, and Johnny Mathis. He became a naturalized American in 1945.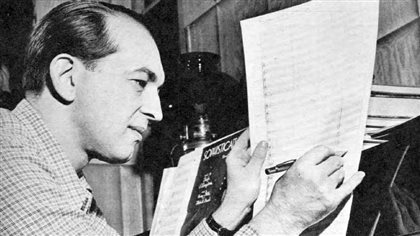 He also developed a signature style of lush strings to soften the brass which was popular in the 40's, and eventually recorded some 85 albums, as well as scoring movies, and TV shows.
Several of his instrumentals became top hits, even in the era of pop and rock. These included "Delicado" in 1952,  "The Song from Moulin Rouge" 1953,  and "Theme from a Summer Place" in 1960, which spent seventeen weeks on the pop charts, nine at number 1 spot, which also won record of the year in 1961 and was the top selling single of that year as well,
Though this easy listening style fell out of favour in the 60s and 70s it never disappeared, in fact he received a second Grammy award in 1969 for his album Love Theme from 'Romeo and Juliet'.
His reworked "Summer Place 76" became a posthumous minor hit.
Some of his many albums, are Amour, Amor, Amore," "Themes for Young Lovers," "Music from 'My Fair Lady,'" "The Columbia Album of Victor Herbert," "The Beatles Album," "Held Over," "Bouquet," "Tara's Theme from 'Gone With the Wind,'" "Joy," "The Music of Christmas," "Latin Themes for Young Lovers," "Bim! Bam!! Boom!!!," "Today's Themes for Young Lovers," "Summer Place '76," and, perhaps inevitably, "Percy Faith's Greatest Hits."
He was 67 when he died of cancer in California on this date in 1976
THEME FROM A SUMMER PLACE