People of a certain generation remember that as young children they were involved in lots of outdoor activities. These included climbing trees, exploring the back yard, or nearby fields and ponds,  or in city parks on the big, heavy wooden teeter-totters where an untrustworthy partner could jump off leaving you with an instantaneous drop to a hard landing, or high steel slides that required fairly good coordination to avoid either a face-plant or another painful bump onto your bum.
Play was exciting, but sometimes you ended up with bruises, or scrapes or cuts, or possibly even a fracture.  But, you learned from those experiences about risks, about limits, about consequences.
But those kinds of things have all been engineered out to ensure there is a greatly reduced risk of injury, and for municipalities, little risk of lawsuits.
One researcher says that's unfortunate because children need to be challenged and learn about risks. Susan Herrington is a professor in the School of Architecture, and Landscape Architecture at the University of British Columbia.
Listen
Professor Herrington asked hundreds of parents about their childhood play, and about the playgrounds where they take their own children to now.
Some 70 percent of the parents said today's playgrounds are too "safe" with little challenge, and that most preferred in their own youth to play in natural settings, backyards, wooded areas, ponds, etc., as opposed to structured playgrounds.
With greatly increased urbanization,  structured playgrounds have become the norm for most children of the past couple of decades.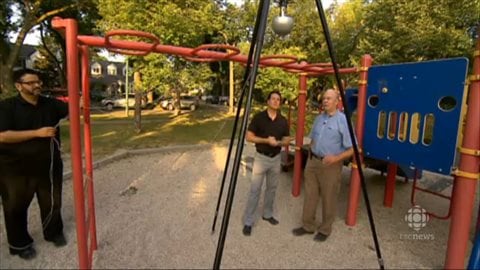 Professor Herrington says areas that are too safe don't challenge children, who also don't learn to calculate risk factors. She says when equipment is too safe, children will start to use it in inappropriate ways, in order to deliberately create challenge and risks.
Because of the inappropriate use of the equipment, this can indeed lead to injury.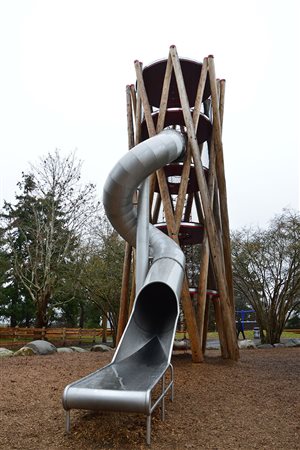 Another of Professor Herrington's studies showed that children in such safe playgrounds, spent the vast majority of their time not actually using the equipment.
She says incorporating natural elements into the play area, such as tall grasses adds other elements of exploration and interest for young children, and notes a surprising side effect, in that children who play in areas with natural elements are less stressed and less aggressive in their play.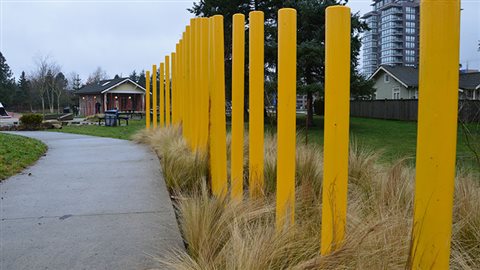 She also notes that by taking little risks, and sometimes hurting themselves, children learn about risk and consequences and are better equipped to evaluate the potential consequences of much bigger physical risks later in life.