The second Grand Slam event of the tennis season began Sunday. The 114th French Open, AKA Roland Garros, after a famous French aviator who loved tennis, will run for another two weeks.
Sadly for Canadian tennis fans, the chances of a Canadian singles player advancing deep into the tournament must be rated at slim to none.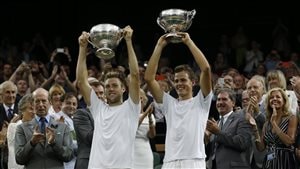 First, the slim: World number-six Eugenie Bouchard, a semi-finalist a year ago, is in a deep funk, having won just one of her last eight matches.
The 2015 tennis season has been less than kind to Bouchard who faces Kristina Mladenovic, a 22-year-old Frenchwoman ranked 54th in the world, in the first round on Tuesday.
(In a bit of irony, a British magazine last week named Bouchard the world's most marketable athlete, supplanting F1 racer Lewis Hamilton. The 21-year-old Bouchard became the first female to take the top spot.)
The none: World number-six Milos Raonic is not even entered. Raonic withdrew last week because of an injury to his right foot.
That leaves Vasek Pospisil, a wonderful doubles player ranked 51st in singles, as the only other Canadian hope in the premier events. Pospisil has suffered from ankle problems recently and faces a tough first-round opponent in Portugal's Joao Sousa, ranked 50th.
Bottom line: any Canadian singles glory appears a to be a VERY long shot.
Doubles? Not so much.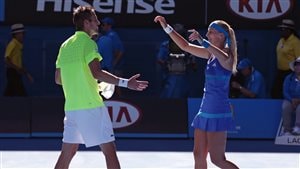 Pospisil and his partner American partner, Jack Sock, are the defending Wimbledon champions and must be considered in the mix for a shot at the championship in Paris.
Then, there is 42-year-old Daniel Nestor, winner of 12 Grand Slam titles, eight in men's doubles and four in mixed doubles.
Nestor has had a storied career. One of the best doubles players ever, he's won 87 titles, including the gold medal (with Sebastien Lareau) at the 2000 Sydney Olympics.
He is teamed with Mladenovic in the mixed. The pair won Wimbledon in 2013, the Australian Open in 2014 and were finalists at this year's Australian. With a bit of luck, a title is not out of the question.
Stephanie Myles is considered by many to be Canada's foremost tennis journalist. She is in Paris and joined me by phone to discuss what might happen in the next two weeks.
Listen