D-Day -1:  Canadian paratroops lead
In the early hours of June 6, 1944 the greatest seaborne invasion in modern history is underway with thousands of Allied troops heading in a vast fleet of ships for the beaches of Normandy.
However, late the previous night on June 5, over 500 Canadians who formed the 1st Canadian Parachute Battalion joined thousands of other allied  paratroops following shortly behind in the air heading deep behind enemy lines.
They would be the first Canadians, and among the very first Allied forces to land in occupied France.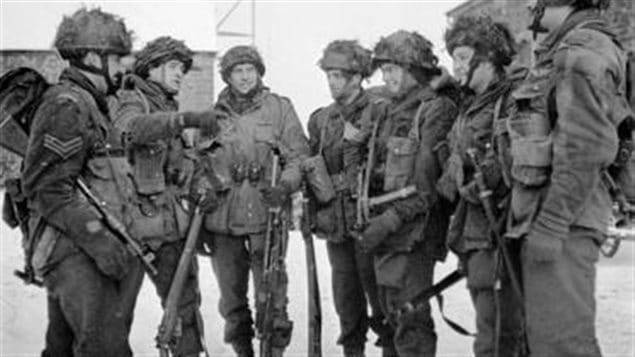 They were to damage supply routes and cause confusion and havoc and divert attention and troops away from the beach landings to come a few hours later on June 6.
The Canadians landed an hour before the main brigade to secure the drop zone, thereafter they were ordered to destroy road bridges over the river Dives and its tributaries at Varaville, then neutralize strong points at the crossroads.
Orders to company commanders were:
     A Company (Major D. Wilkins) would protect the left flank of British 9th Btn during their attack on the Merville Battery and then cover 9th Battalion's advance to the Le Plein feature. They would seize and hold the Le Mesnil cross roads.
     B Company (Major C. Fuller) was to destroy the bridge over the river Dives within two hours of landing and deny the area to the enemy until ordered to withdraw to Le Mesnil cross roads.
     C Company (Major H.M. MacLeod) was to secure the drop zone, destroy the enemy headquarters (HQ), secure the SE corner of the drop zone, destroy the radio station at Varaville, and destroy the bridge over the Divette stream in Varaville. C Coy would then join the battalion at Le Mesnil cross roads.
By mid afternoon, the Canadians had achieved all objectives.
Throughout the rest of the war, the 1st Canadian Parachute Battalion would be involved in several major operations, including the "Battle of the Bulge", and the crossing of the Rhine.
The Battalion was disbanded in September 1945.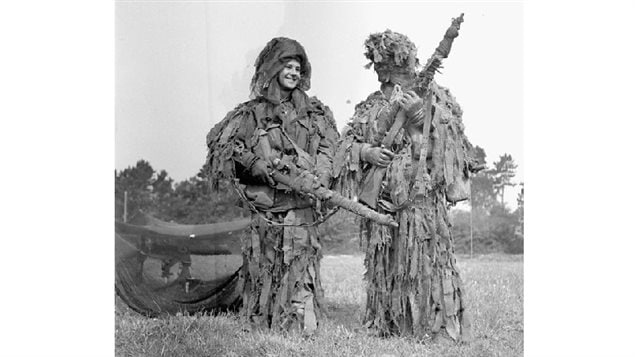 Canadian Directorate of History account
Today, on the eve of D-Day, the Honourable Erin O'Toole, Minister of Veterans Affairs, issued the following statement to mark the 71st anniversary of D-Day and the Battle of Normandy.
" On June 6, 1944, Canadian troops stormed Juno Beach in Normandy, France, as part of the Allied assault to break the grip of Nazi Germany on Western Europe and to restore peace, democracy and justice.

During D-Day, Canadian soldiers bravely fought and overcame fierce enemy opposition to advance deeper inland than any other Allied force.

Canada's triumph came with great sacrifice—of the more than 90,000 Canadians who served in the Battle of Normandy, more than 5,000 gave their lives.

Today, we remember the courageous Canadians who made the ultimate sacrifice and the countless others who came home wounded in body and in spirit. The freedom and opportunities of today would not be possible if not for their brave service to this country. We will forever remember the men and women who served and those who continue to serve for our freedom."