As the leaders of Canada's three main political parties continue on their respective campaign trails, Stephen Harper's former chief of staff and the lawyer for disgraced senator Mike Duffy were expected to continue their sparring in an Ottawa courtroom on Tuesday.
Duffy, who was appointed to the Senate in 2008 by Harper, has pleaded not guilty to 31 charges in connection with his Senate office, living and travel expenses.
Duffy's lawyer, Donald Bayne, spent much of Monday trying to show that it was not Duffy who demanded money and set conditions to rectify the matter but the Prime Minister's Office.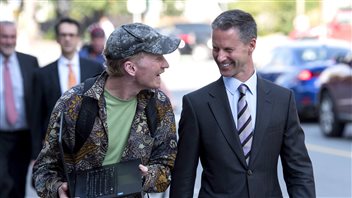 Bayne pressed Nigel Wright, who served as Prime Minister Harper's chief of staff from 2010 to 2013, to explain a "scenario" co-ordinated between top aides in Harper's office and Duffy that included having the senator publicly admit he made a mistake with his expenses and promise to repay them.
The initial plan was to have the party cover the bill, as well as Duffy's legal expenses and Wright has said he told Harper shortly afterward that Duffy would repay the expenses.
Wright wound up writing a $90,000 cheque to Duffy to cover the expenses, telling several people in Harper's office as well as some Conservative Party leaders.
Wright repeated that he never told Harper about the check.
Meanwhile, the campaigns roll on.
In Fredericton Monday, Harper pledged to add 6,000 people to bolster the reserve ranks of the Canadian Forces. On Tuesday he was campaigning in the Greater Toronto Area, putting his focus on public safety.
NDP Leader Tom Mulcair on Monday promised $30 million over three years to help Destination Canada attract more American visitors. Mulcair was in British Columbia on Tuesday, with events scheduled in Nanaimo, Parksville and Courtenay.
Liberal leader Justin Trudeau was set to spend a second day in Ontario on Tuesday after repeating his pledge to deliver a tax break for the middle class and to retool Canada's child-benefit system.
Green leader Elizabeth May remained in British Columbia. She was to focus on pipelines and tankers in Victoria before moving on to Saanich.
Bloc Quebecois Leader Gilles Duceppe was scheduled to appear Tueday with local candidates just north of Montreal.