Prime Minister Stephen Harper must intervene with Egypt's president to free Canadian journalist Mohammed Fahmy, says the Canadian Journalists for Free Expression (CJFE). Fahmy is back in prison after being sentenced to three years on terror-related charges that human rights groups have called a sham.
'Extremely disappointed…frustrated'
"We are extremely disappointed and extremely frustrated with the Egyptian government…" says Tom Henheffer, executive director of the CJFE. "It really goes to show that the court system has no interest in protecting people's rights, that it is simply a political tool of the government."
The Canadian government has formally applied to Egyptian authorities for a pardon and a deportation of the Al-Jazeera journalist, says his lawyer Amal Clooney. But Henheffer says past experience gives him little confidence the Canadian government is pursuing the case with enough vigour.
Listen
'A nightmare dealing with the Canadian government'
"It has been a nightmare dealing with the Canadian government on this case," he says. "For the first six months they essentially didn't do anything. They said they were quietly working the back channels diplomatically. It turned out that, what we found out from friendly Egyptian officials through Mohammed Fahmy, was what that meant was that they weren't doing anything."
Australia's government intervened aggressively and early on behalf of Fahmy's collegue Peter Greste and he was deported early on in the case.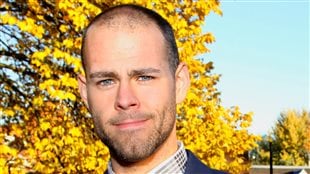 Canada accused of 'bungling'
Henheffer further accuses the Canadian government of "bungling" efforts to free Fahmy. He notes that then-foreign affairs minister John Baird was on a trade mission to Egypt earlier this year when he announced that Fahmy would not have to face trial if he were deported to Canada. Henheffer says this angered Egyptian officials and scotched any initiative to deport him.
A call for public action
"I will feel far more confident if about Mohammed Fahmy's chances if Canadians…Once again we are asking them to stand up and fight for their fellow citizen, to get him out of jail by tweeting with the hashtag freeajstaff, by contacting the prime minister, by contacting Rob Nicholson (minister of foreign affairs) and Lynne Yelich, the minister for consular affairs, contacting their MP (member of Parliament) and also the opposition because there is an election now.
"So if there was ever a time to pressure the government, now is it."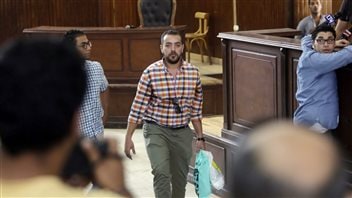 Journalists fight for Egyptian colleague's release
The CJFE is hopeful Fahmy can obtain a pardon which would also apply to the colleague who was convicted and imprisoned along with him. As an Egyptian national, Baher Mohamed would not benefit from a deportation order. Henheffer says the group will continue to fight for his release as well. At the same time it notes there are up to 60 other journalists languishing in Egyptian jails.