Mohamed Fahmy, the Canadian journalist put through hell by Egyptian authorities, is back in Canada and making his presence felt.
Fahmy and his wife, Marwa Omara, arrived in Toronto on Sunday, ending two years of fighting trumped up charges that saw him in and out of Cairo prisons. He finally received a presidential pardon last month.
"This is what I've been waiting for," Fahmy said on Monday, thanking Canadians for their support during his ordeal.
Speaking Tuesday at an event hosted by Canadian Journalists for Free Expression at Ryerson University in Toronto, Fahmy did not go easy on Stephen Harper's Conservative government.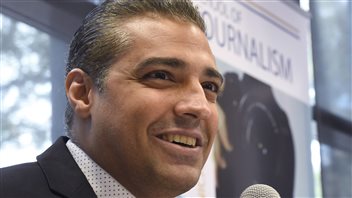 Fahmy said it was "difficult not to feel betrayed and abandoned" by Harper, and and added that he "could not accept" that Harper was not using his clout to help him get out of jail after spending years detained in an Egyptian "scorpion prison" on terror-related charges.
Fahmy said he made it a point to come back to Canada amid the election campaign because he feels it his responsibility to start a debate on the issue.
He met with Liberal leader Justin Trudeau on Monday night and tweeted that he and his wife "enjoyed meeting the tireless & inspirational" Liberal leader to "express gratitude for his support.
On Tuesday, Fahmy had a meeting with NDP leader Tom Mulcair.
Fahmy's parents moved to Canada from Egypt in 1991 when he was a child. He became a Canadian citizen with them.
He lived in Montreal and Vancouver for years before eventually moving abroad for work, which included covering stories for the New York Times and CNN.
At the time of his arrest in December, 2013, he was Cairo bureau chief for Al-Jazeera-English.