An indigenous artist has just discovered that Canada's newly-elected prime minister has one of his designs tattooed on his arm. Justin Trudeau had a planet earth put on his upper arm when he was 23, and had a stylized raven added when he turned 40 in 2013.
Robert Davidson is a west coast artist of Haida and Tlingit descent. The National Post newspaper notes that it "was likely no accident" that Trudeau chose a Davidson design of the raven. At four years old, he attended a ceremony where his father, former Prime Minister Pierre Trudeau, was adopted into the artist's grandmother's clan.  This honour is usually only bestowed on non-Haida who marry into the clan.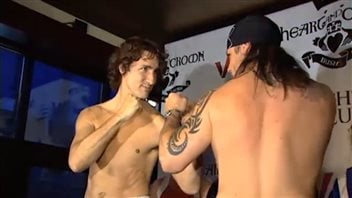 Justin is 'technically family'
There has been controversy in North America over cultural appropriation–the fashion industry and non-natives using aboriginal symbols. But Peter Lantin, president of the council of the Haida Nation, told the National Post "when Justin Trudeau visited…again in 2013, he seemed to take an interest in the culture and, of course, his father was technically family."
Canadians got a good look at the tattoo in March 2012 when Trudeau took on Senator Patrick Brazeau in a charity boxing match to raise money for cancer research. Trudeau won.