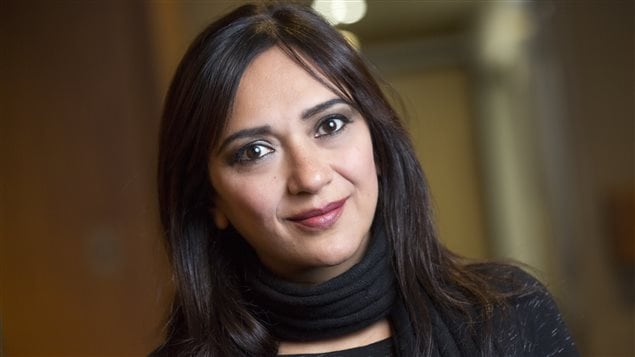 If Canada and its western allies really want to make a difference in Syria, they should nudge Turkey to help Kurdish forces already fighting ISIS militants in Syria, says a veteran Turkish journalist and political analyst.
"Rather than labelling them as terrorists and portraying them as a threat, I think Turkey should be reaching out to them," Amberin Zaman, a columnist for one of Turkey's leading digital news platforms, Diken, and also for Al-Monitor, told Radio Canada International as we sat down for a brief interview.
Listen
Zaman, who was in Montreal on Monday to participate in a panel discussion organized by Concordia University and the International Press Institute, said the move would not only bolster Kurdish forces in Syria who've made significant gains recently but also help Turkish President Recep Tayyip Erdogan jumpstart the stalled peace process with Turkey's own Kurds.
"Turkey has a problem with its own Kurdish population," said Zaman, a petite, soft-spoken woman, who has been a thorn in the side of successive Turkish governments. "This government actually reached out to them, sat down with them and started talking to them. But then for a number of reasons Turkey did a U-turn."
Zaman said the Turkish government felt threatened by the fact that it had another semi-independent Kurdish entity on its borders, particularly since the Syrian Kurdish People's Protection Units (YPG) have strong links to the Kurdistan Workers' Party (PKK), which has fought the government in Ankara since mid-1980s for a Kurdish homeland in southeastern Turkey.
"They ought not to, instead they should coopt them [YPG], they should work with them," said Zaman who has faced persecution in Turkey for her reporting on the Kurdish issue and government corruption. "That will not only help bolster the peace process inside Turkey, it will also facilitate the fight against ISIS, it will make the relationship between Turkey and its Western NATO partners much easier and I think it would be a win-win for all sides."
She also called on Canada to contribute more financially to help countries like Turkey, Lebanon and Jordan cope with the influx of Syrian refugees.
"Countries like Turkey are carrying an enormous burden," said Zaman. "There are 2 million Syrians in Turkey, in some cities they outnumber locals."
Wide-ranging discussion
The panel discussion at Concordia's D-B Clarke theatre, entitled "Threats, Risks, Freedoms: A Conversation About Journalism and Human Rights" also featured prominent Canadian journalist Susan Sachs, foreign editor at The Globe and Mail newspaper, and Kyle Matthews, Senior Deputy Director of the Montreal Institute for Genocide and Human Rights Studies at Concordia University.
The hour-and-half-long discussion moderated by Sachs touched upon a broad range of topics from the lack of press freedom in Turkey and its implications for the Turkish society and the broader Middle East, to the recent events in Paris and the Syrian refugee crisis.
"Increasingly the Turkish public is no longer privy to critical views of the government, so all you have is just propaganda," Zaman said. "What's also troubling is the fact that now the government is also targeting the Western press."