Canada will bolster the number of its special forces troops in Iraq to provide more training to local security forces and boost its military contribution to the U.S.-led coalition fighting ISIS militants, Prime Minister Justin Trudeau says.
Trudeau's commitment comes a day after he confirmed Canada will be pulling out its six fighter jets from the bombing mission in Iraq and Syria before March, 2016, when the current parliamentary mandate expires.
Canada currently has 69 elite commandos training Iraqi and Kurdish forces in northern Iraq.
Officials with the new Liberal government are in discussions with their U.S. counterparts to work out the exact details of Canada's new role, said Trudeau.
"Obviously we committed throughout the campaign and I've committed repeatedly to my allies that we were going to do more on the training front and that means obviously more than just 69 trainers,"  Trudeau told reporters during a wide-ranging, 20-minute news conference aboard his Canadian Forces airliner.
Trudeau didn't offer specific numbers but he has cited the Forces Afghanistan training mission, to which the Harper government initially committed almost 1,000 troops.
Trudeau said he wants Canada to be "a strong and positive contributor to the continuing mission against ISIL," by training northern Iraqi troops to take the ground war directly to the militants.
Air campaign winds up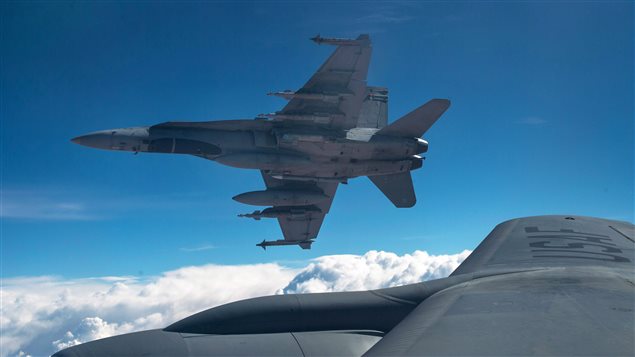 Canada's air campaign against ISIS involves the deployment of about 600 Canadian Forces members, including logistical support. The previous Conservative government assigned six CF-18 Hornet fighter jets, one Polaris aerial refueller and two CP-140M Aurora surveillance aircraft to the U.S.-led air war against ISIS.
As of Nov.11, Canadian planes had flown 1,731 sorties, said Canadian officials.
Of those, 1,109 were combat missions by CF-18 fighters, but about two-thirds of the time Canadian jets return to base without dropping bombs, owing to what officials describe as Canada's careful approach to avoid civilian casualties.
With files from The Canadian Press