The Canadian Medical Association has launched a website to help its members care for thousands of Syrian refugees who are expected to arrive in Canada in coming months under the federal program to resettle 25,000 Syrian asylum seekers in Canada.
Doctors who will have refugee patients or families in their practice will need to have information about a host of issues from their immunization status to health and drug insurance, said Dr Cindy Forbes, president of the association which represents more than 80,000 Canadian physicians.
(click to listen to the full interview with Dr Cindy Forbes)
Listen
"We wanted to make sure that physicians were able to get the information and resources that they need to help look after the refugees," Dr Forbes said speaking on the phone from Halifax. "Whether they are in family practice or in the specialties they'll be looking for certain information and so we've put it all together on a web-based site so that it is easily accessible."
Syrian refugees – both government-assisted and privately sponsored – are eligible for benefits under the Interim Federal Health Program (IFHP) for up to one year. These benefits include basic coverage, supplemental coverage and prescription drug coverage.
In addition, many provinces will offer access to provincial health plans within the first 48 hours of a refugee's arrival into Canada.
Physical and mental health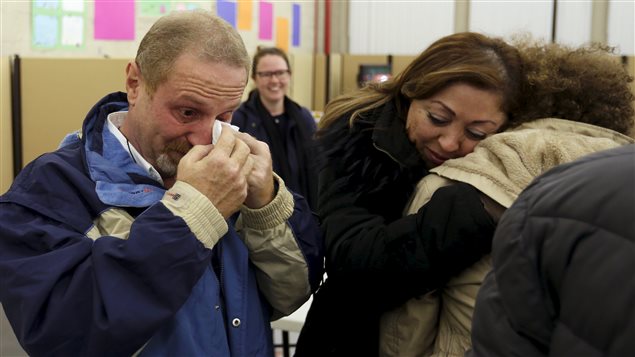 Dr Forbes said all of the refugees would have had an initial medical examination before they arrived in Canada but once they settle in communities they may need to access healthcare for a variety of reasons.
"I think we're trying to make sure that physicians have the resources and are aware of the potential for mental issues as well," said Dr Forbes. "Given the fact that they have been living in refugee camps and may have experienced trauma from injury or being exposed to violence and war, they certainly may show signs of stress-related, psychological problems, which may appear either early on or later on over time as they settle in."
Dr Forbes praised the Liberal government's decision to fully restore refugee health care as part of their commitment to refugees.
"We are certainly are expecting that they will get fully covered for their insurance the way that they were previously," Dr Forbes said. "I think it's very positive signs from this new government."
Back in 2012, the Conservatives under Stephen Harper trimmed medical benefits for newcomers to Canada, leaving most immigrants with basic, essential health care but without supplementals such as vision and dental care. The Federal Court found the government's treatment of refugees was "cruel and unusual" because it jeopardized their health.
Dr Forbes said the images of the first two plane loads of Syrian refugees arriving in Canada filled her heart.
"It certainly makes me very proud that we are embracing the refugees that are coming here and I know in the physician community there is a lot of support," she said. "Over time we'll need to continue to support them other than when they first arrived, so over the next few months and years to embrace them as part of our community."