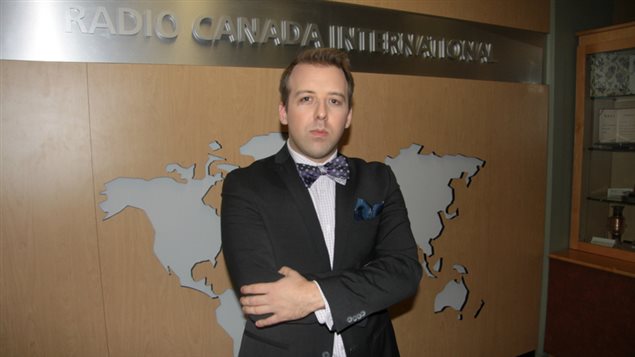 Dr. Jocelyn Bélanger is a man on a mission – to stop violent extremism using nothing more than the power of words.
The  professor at the Department of Psychology, at Université du Québec à Montréal (UQAM) has developed a toolkit to help families, communities and policy makers understand, prevent and counter violent extremism.
It's called an Information Toolkit on Violent Extremism (ITVE) and it's a first in North America. The ITVE summarizes 50 years of research on extremism. Violent extremism originates from multiple sources including religious, right-wing, left-wing, ethnonationalist and environmentalist groups, Bélanger said as we sat down for an interview.
Listen
"It's very important for people to understand that there is no checklist, it's not a list of symptoms," Bélanger said.
Signs of radicalization
However, usually there are a few signs.
What researchers have found is that radicalized people tend to be intolerant with regards to different perspectives on life, they think that the hold the Truth with capital "T", they break with their old social networks and join new ones that espouse the same ideology, and they consume and share a lot of violent content online and on social media, he said.
And as long as the radicalization does not lead to violence it's not always a bad thing,  Bélanger said.
"If you think of women's rights, or slavery, or civil rights, these were all things that radical people put radical ideas to try and change society for the best," said  Bélanger. "If you're a radical but you're peaceful like Ghandi, Martin Luther King or Mother Theresa, then radicalization can be a good thing."
Bélanger  said researchers have found three major ingredients that lead to radicalization.
"The first element is motivation, there is some sort of an emotional upheaval, there is grievance that needs to be addressed, that propels people to join groups," said  Bélanger. The other two ingredients are social networks and ideologies.
"It's through social networks that people get access to ideologies in their environment," he said.
But the advent of the Internet and social network apps has now made possible for people to auto-radicalize, by consuming radical content that's freely available online, said  Bélanger.
ISIS and other jihadi groups know the value of these glossy, high-definition propaganda materials very well, he said.
"The are targeting a tech-savvy audience and they are selling them a dream," said  Bélanger. "It's about power, it's about prestige, it's about all those taboos: you're a kid we'll give you women, we'll give explosives, we'll give you adventure."
Even high ranking al-Qaeda recruiters admit that "jihad is sexy, jihad is the new counter-culture," said  Bélanger.
Fighting radicalization with words
But countering radicalization with violence doesn't always work, said  Bélanger. In fact, in many cases it could have the opposite effect and feed radicalization even further.
There are several very successful anti-radicalization programs world-wide, from Saudi Arabia, to Singapore and Sri Lanka, said Bélanger.
"Essentially, the idea here is to fulfil their quest for significance, because that's the main driver of radicalization, being someone, to be respected, to be a hero, to write history," said  Bélanger. "So these interventions provide alternative means to this significance quest."
Bélanger has been instrumental in creating North America's anti-radicalization centre in Montreal. The centre started with a hotline that allowed family members, friends and neighbours signal potential cases of radicalization to specially trained social workers. Since March, the hotline has received about 140 calls, said  Bélanger. All except six cases were resolved without police intervention. On Sunday Nov. 22, the centre is expected to officially open its offices in downtown Montreal.