Despite the growing political pressure at home and from allies abroad, Prime Minister Justin Trudeau told the gathering of the world's reach and powerful in the Swiss Alps on Wednesday he is determined to pull Canada's fighter jets from Iraq and end their combat mission against Islamic State militants.
"Canada recognizes that we need a global, concerted response to the war on terror, and terrorists specifically, and Canada has an important role to play on humanitarian side, on the refugee side, and yes, on the military side as well," Trudeau said during a question and answer session following his keynote speech at the World Economic Forum in Davos, Switzerland.
"We have committed, however, to end the airstrikes portion of our military involvement in exchange for another way of military involvement, probably around training and such things that can help local troops bring the battle directly towards the terrorists."
(Watch PM Justin Trudeau's speech at World Economic Forum in Davos: Video)

'Competitive advantage'
Canada should look where its "competitive advantages" are, Trudeau said.
"And over the past ten years, and not take away anything from the excellent fighter pilots that we have in Canada, but over the past ten years Canada developed a tremendous level of expertise in training, in intelligence on the ground in Afghanistan," Trudeau said.
Canada can be very effective in helping and training local troops to fight, Trudeau said.
"And if there is one thing that recent history has taught us, is that ultimately conflicts like these need to have their resolution on the ground, with people who live and want to take their countries back from terrorists," Trudeau said.
Growing pressure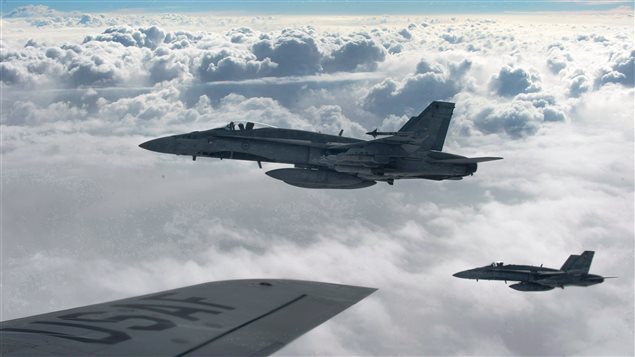 The Liberal government has faced criticism from the opposition Conservatives over its decision to withdraw the six CF-18 fighter jets from the air campaign against Islamic States militants in Iraq and Syria.
There are also increasing signs that Canada's allies are beginning to show their displeasure with Trudeau's policy.
On Tuesday, Canada was left out of a meeting of coalition defence ministers from Australia, the United States, France and the Netherlands.
Conservative interim leader Rona Ambrose, who heads Official Opposition, said Canada is paying a price for withdrawing frm the air campaign.
"When you're not a full partner, you don't get invited to the table," Ambrose told reporters in Winnipeg. "We were asked to join by the United States and other partners, and now we've said we're pulling out of that bombing mission."
But Canadian Defence Minister Harjit Sajjan downplayed Canada's exclusion.
"There's a number of other meetings that happen that you may not be actually aware of," Sajjan told reporters at a cabinet retreat in New Brunswick on Tuesday. "I have a meeting at Norad that's happening in a couple of days that's very important … and I have a couple of meetings that are going to be coming up in the next few weeks to talk about [ISIS]."