When Robert Jenkins comes back on leave to Canada, he doesn't like to talk about war and atrocities in the Middle East.
Instead, the native of Orillia, Ontario, likes to tell his friends and family about the amazing resilience of the people of Jordan, their openness and generousity towards Syrian refugees.
Jenkins is the head of UNICEF in Jordan and is on his seventh mission for the United Nations agency for children.
"I joined UNICEF over twenty years ago from graduate school and haven't looked back," Jenkins said, speaking on a cell phone from Amman, Jordan. "I've had the incredible privilege to serve with UNICEF in various countries in Africa, South Asia, Southeast Asia now in the Middle East. And I must admit I appreciate every day that I have this chance to work for UNICEF and make this contribution."
Listen
1.3 million Syrian refugees, 320,000 children
It's a big contribution.
With a population of about 6.5 million and a gross domestic product of $33 billion – almost ten times smaller than the GDP of Greater Toronto Area – Jordan is home to 1.3 million Syrians fleeing the war in their home country, of which 630,000 are UNHCR-registered Syrian refugees, including over 320,000 children.
"Jordan needs to be applauded for its generousity and hospitality," Jenkins said. "Being a middle-income country and receiving between 15 and 20 per cent of its population in refugees is an enormous challenge and they deserve enormous credit for such generousity."
Only about 20 per cent of Syrian refugees live in refugee camps, the rest are scattered among host communities across Jordan.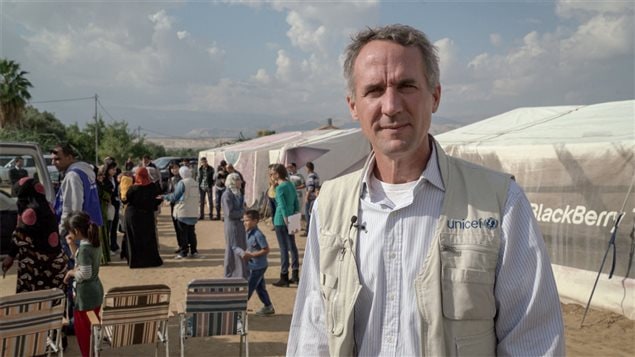 From schools to malnutrition programs
UNICEF provides a multitude of services to these refugees, with the largest program being education, Jenkins said. The agency supports the Jordanian government to provide formal education to Syrian refugee children, as well as informal education to those who are not able to attend school he said.
UNICEF also runs a large water and sanitation program, providing all the water and sanitation services to the refugee camps and strengthening water and sanitation infrastructures in host communities, Jenkins said.
One of the biggest programs run by UNICEF is child protection, focusing on providing psychosocial support for children affected by the crisis and helping them to engage back with their friends and families.
UNICEF also runs a health and nutrition program as well, providing infant and young child support to particularly vulnerable children, Jenkins said.
'Incredible generousity'
The influx of so many refugees has put a lot of strain on Jordan's school and health systems, its water and sanitation infrastructure, as well as pressures within the communities themselves on accommodating such a large refugee population, he said.
"But I must admit we also witness every day incredible generousity within communities, within schools, by teachers and by fellow students in making this challenging situation work," Jenkins said. "It's been unparalleled in my career in UNICEF."
The presence of refugees scattered among the general Jordanian population creates additional challenges for the UN agencies working with them.
"It is a challenge to provide support mainly because we want to ensure that communities are looked at as whole, so all vulnerable children in communities – that would be disadvantaged Jordanians plus UNHCR-registered Syrian refugees, children from other nationalities – have the support that they require," Jenkins said. "So we take a holistic approach to communities and urban areas where Syrian refugees are living and work to provide support to all children in need, regardless of their status or where they'd came from."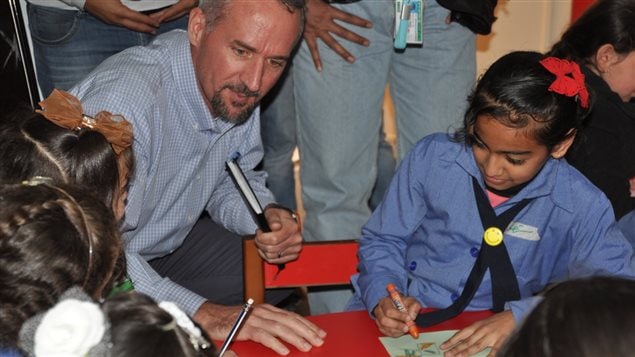 Holistic approach
The UN agencies working in Jordan have put in programs in place to promote social cohesion, by encouraging interaction between various groups to learn and benefit from each other, Jenkins said.
"It is an incredibly impressive and a humbling experience to live in a country that has warmly welcomed 15 per cent of their population as refugees," Jenkins said.
With no end in sight to fighting in Syria, UNICEF and other UN agencies are working very closely with the Jordanian government to move their response to the Syrian refugee crisis from an immediate humanitarian response to a medium- and a longer-term approach.
"It's something we call resilience based programming," Jenkins said. "What we need by that is, no longer just focus on immediate, very quick short term humanitarian assistance like handing out non-food items or providing water trucking or learning materials, but looking more systemically at strengthening the school system, building water systems, sewer systems and strengthening the overall capacity of communities together to be more resilient to this crisis."