Many Canadians who grew up in the western province of Saskatchewan will tell you they learned how to skate almost before they learned to walk, but one couple extended that early love of skating and decided to get married in an arena and to skate a victory lap.
Saskatchewan gets very cold in the winter. It is fairly flat and ponds freeze solid, making a good surface for skating.  It used to be common for children to go outside and play spontaneous games of hockey for hours at a time. Children also go to arenas to play more organized games of hockey and, a similar game called ringette.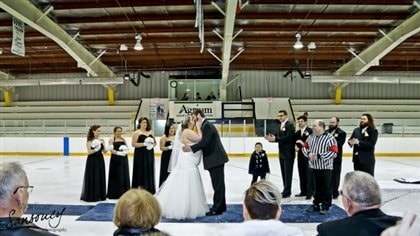 Couple still skate, love hockey
Brittany and Wade Peterson grew up playing these sports and watching hockey games, and they still love to do both. They love it so much they decided to get married on the ice in an arena, reports CBC. They even had the official perform the ceremony wearing a referee's jersey.
The bridal party walked up the ice while family and friends watched from behind the boards, where hockey teams usually sit. CBC reports that the bride slid once, but she took it all in stride and with humour. After the ceremony, the bride and groom donned their skates and took a spin around the arena.
'Only in Saskatchewan'
The bride's sister had just moved back from living abroad for over a decade. She told CBC she was excited to have a new "only in Saskatchewan" story to tell her overseas friends.
"People are like 'what is it like in Saskatchewan'? And I tell these stories about the Saskatchewan winters…This is just another story that will fall seamlessly into the story I tell people about 'this is Saskatchewan,'" said Brenna Strohschein.
From CBC.