Canadian flute teachers decided to give students a boost by creating a new CD to please and inspire them, and students and teachers from around the world bought in. A Young Flutist's Anthology was launched via a crowd-funding. It includes pieces for those who are just beginning, some baroque standards for intermediate players, and Debussy's "Syrinx" and Honegger's "Danse de la Chevre" for the advanced. There are also newly-created arrangements of familiar pieces. All except one are in the public domain.
Listening 'is a cornerstone…of the Suzuki method'
Listening to music is an important part of the Suzuki method of teaching music. The idea is that children can listen and learn in the same way that they do with language. "I believe that it is a cornerstone component of the Suzuki method to have demo recordings that the students can use, especially the very young ones, to become familiar with the sound that they want to aim for and to get an idea of the character of each piece before they actually learn it," says Suzanne Shulman, the Canadian flutist and principal player on the CD.
Listen
Official Suzuki reference recordings have been around for a long time and exist for flute as well as other instruments.The first of these discs presents pieces at the beginner level and each successive one presents more difficult repertoire.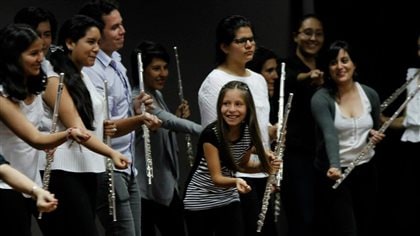 More flutes, more fun
A Young Flutist's Anthology is different in that it includes a broad range of pieces on one disc and some of the 36 pieces involve more than two instruments.
"It's not just one flute and piano. You have some arrangements of multiple flutes that are really fun and imaginative and a couple of pieces for flute alone as well," says Shulman.
The group pieces are an exciting feature of the CD since Suzuki teaching usually involves individual lesson plus weekly or bi-weekly group lessons where students of all ages may play together. Sheet music from arrangements on the CD is sent to teachers who made larger contributions to this project, and posters are sent to funders in Europe, Australia, New Zealand, South America and the U.S.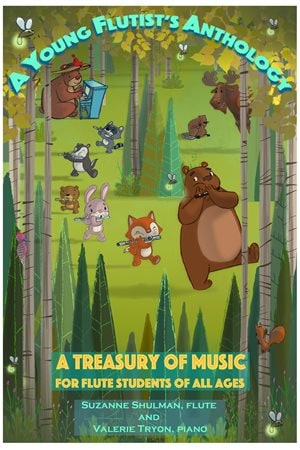 Poster sent to funders around the world
The colourful poster shows different animals playing flute and a bear accompanying them on piano. It was designed by artist Jonathan Royce who plays flute and many other instruments himself.
On the CD, the piano is played by Valerie Tryon and additional flute lines by Kelly Williamson and David Gerry.
Hopes the CD 'will bring pleasure'
Says Shulman,  "I hope, first of all, that it will bring pleasure to a lot of students of all levels of flute playing, that they will enjoy learning new pieces and that they will have an opportunity to expand their repertoire and hopefully go on to the next level."
Some Canadian parents enrol children as young as three years old in Suzuki music lessons. The method was developed by Japanese violinist and educator Shinichi Suzuki and was brought to North America in 1964.