The United Nations says dozens of people were killed in the recent airstrikes against hospitals and schools in northern Syria. The Britain-based Syrian Observatory for Human Rights says Russian planes destroyed a clinic in Idlib province. Russia denies it.
'An absolutely horrific morning'
The medical aid agency, Médecins Sans Frontières (MSF) says if the attacks were deliberate, they could constitute war crimes. The Idlib clinic was supported by MSF. "It was hit by four missiles launched by two warplanes Monday morning," says Stephen Cornish, director of MSF Canada.
"Those direct hits completely destroyed a functioning hospital that had been carrying out 140 surgeries a month and treating 1,500 patients. Sadly, 25 people died in the attack: nine staff members from the medical staff and 16 patients and caretakers. It was an absolutely horrific morning," he says.
Listen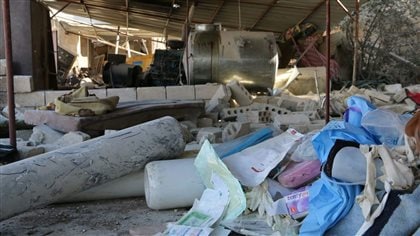 Rescuers hit by follow-up attack
Cornish does not believe the hits were accidental. "What we're seeing here is a series of attacks happening on the same day, a number of facilities being targeted in the same day. And in our case, there were several attacks in and around the hospital, followed by direct missile attacks on the hospital itself. And then, when the rescuers were going through the rubble trying to save patients and staff members who were wounded and trapped under the rubble, there was a follow-up attack. So it defies belief that these could be accidental.
Stop bombings, stop sieges, pleads MSF
"The Syrian government believes that medical work, humanitarian assistance is a criminal act and this, in contravention to the (UN's) Geneva Convention and the rules of war," says Cornish.  He adds it's time countries stop condemning the attacks and they do something to stop them, and to stop the sieges that have been set up by several parties to the conflict.
There are some 400,000 people living in town where access to food, power and water has been cut off. In an MSF-supported hospital in Madaya, 45 people have died of starvation last month alone, says Cornish.
'Our very humanity at risk'
"So, the absolute brutality and lawlessness that we're seeing in this conflict doesn't reflect our shared humanity, doesn't reflect the norms of international humanitarian law that all member states have agreed to. We have to find a way to get back to those or our very humanity will be at risk here."