The first convoys of evacuees stranded in mining camps north of the Canadian oil town of Fort McMurray began their daunting escape from the fire-ravaged area early on Friday, accompanied by police escorts on the ground and military helicopters in the air.
Several hundred vehicles loaded with evacuees headed south toward Fort McMurray, which was evacuated Tuesday because of the wildfire that still continues to burn unabated. The evacuation order forced more than 88,000 people to flee their homes.
An estimated 25,000 evacuees fled the fast moving inferno that consumed large parts of Canada's oil sands heartland to mining camps north of Fort McMurray because the only route south runs through the fire-ravaged city, Alberta Premier Rachel Notley said Friday.
Approximately 7,000 evacuees were airlifted out of the camps on Thursday by flights organized by the energy companies, provincial authorities and the Canadian military, Notley said.
"Today we're working to move the roughly 15,000 people remaining north of the city in land convoys and by air," Notley said.
Convoy heading south on Hwy. 63. Shot from north side of Hospital St. #ymmfire #FortMacFire pic.twitter.com/XXK1OubsFK

— RMWB (@RMWoodBuffalo) May 6, 2016
The Royal Canadian Mounted Police (RCMP) are organizing convoys of 50 vehicles at a time with police cruisers at the front and rear of the line. The Royal Canadian Air Force (RCAF) is providing air cover with four Griffin helicopters following the convoys overhead to watch for threats. "If weather, fire and road conditions remain favourable, all the estimated 1500 vehicles will be moved through and out of the city today," RCMP said in a statement. While changing winds turned the main fire southeast on Thursday, away from town, parts of the city still burned.
May 5 – 10:50 p.m. A brief message from Darby Allen #ymmfire pic.twitter.com/0hb9TkoYwH

— RMWB (@RMWoodBuffalo) May 6, 2016
"Things have calmed down in the city a little bit, but guys are out as we speak, fighting fires, trying to protect your property," said Fort McMurray Fire Chief Darby Allen in a video message posted on the city's Twitter feed.
"The beast is still up, it's surrounding the city, and we're here doing our very best for you."
The blaze, which erupted last Sunday, has grown ten-fold to over 100,000 hectares, an area larger than the entire city of Berlin, and over ten times larger than Manhattan Island. The fire is so large it has created its own weather system.
Winds continue to blow the fire southeast of Fort McMurray, threatening the community of Anzac, about 40 kilometres south.
"The fire reached Anzac but it remains mostly intact as far as we know, as does Long Lake," Notley said.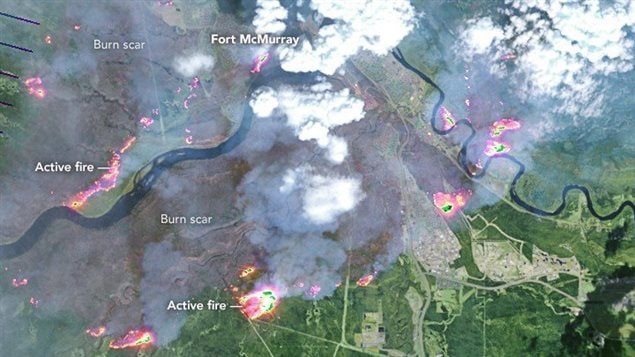 Authorities expect the winds to shift and force the fire north, away from Anzac , she said.
"Alberta and all of Canada are with you, we have your back," Notley said, addressing residents of Fort McMurray.  "And we are going to make sure that you have the help you need today, tomorrow, and in the weeks and months to come as we rebuild."
Prime Minister Justin Trudeau said government officials were in constant contact with Notley and would "provide any support we can" to help the province.
"Our government has met all the Alberta government's requests for assistance, including providing air assets and 7,000 cots for evacuees in emergency shelters, with 13,000 more on the way," he said in Toronto.