For years French humourist Dieudonné M'Bala M'Bala, of France, has been at the centre of controversy over his routines and the issue of free speech.
Scheduled for performances in Montreal, he arrived at the airport, but was sent back to France.
A known Holocaust denier, and for making jokes about the gas chambers, he hs been convicted on several occasions in Europe for violating hate speech laws.
In fact, he was found guilty again this week in France and handed a 10,000 Euro fine and a two-month suspended sentence for violation of hate speech laws.
This was in relation to a  show where he was dressed like a Guantanamo Bay prisoner while mocking the Holocaust and saying Jews were active in the slave trade.
He had been scheduled to perform five shows in Montreal at an art gallery, increased to ten when the first five were sold out. While his detractors are legion, his fans say they like his defiance of authority and ridiculing of what he says is hypocrisy in French  policies and elite society.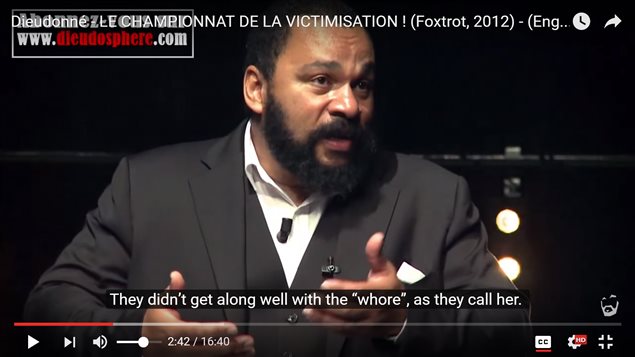 Free speech protest
When the shows were announced, Montreal mayor Denis Coderre said the comedian was not welcome in Montreal. Others called for him being banned from Canada. This elicited a strong reaction from several groups saying a ban would be an imposition on free speech in Canada.
Asked this week whether he should be allowed into Canada, Heritage Minister Melanie Joly sidestepped the question saying only she wouldn't attend his shows and that such decisions were up to border agents.
Those on board the plane when he arrived said he was met by two border agents and sent back.
Although the shows have been cancelled, Dieudonne says he will perform tonight, suggesting perhaps an internet or skype performance.
Dieudonné was also scheduled to perform in Montreal in 2012 but those shows were cancelled as well after the promoter bowed to public pressure against the comic's performance.
Additional information- sources