Legislation that guarantees legal and human rights protection for transgender people has been introduced in Canada's House of Commons.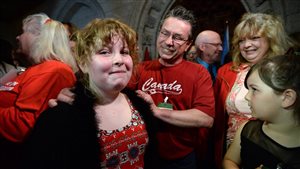 Supporters hope the bill will be law by fall.
"I'm proud to say that moments ago, I introduced legislation, Bill C-16 … that would ensure that Canadians will be free to identify themselves and to express their gender as they wish while being protected against discrimination and hate, because as Canadians, we should feel free and safe to be ourselves," said Justice Minister Jody Wilson-Raybould in making the announcement.
Cheers and applause from several MPs and advocates of the transgender community Ms. Wilson-Raybould's greeted the announcement, which coincided with the International Day Against Homophobia, Transphobia and Biphobia.
The bill adds "gender identity" to race, religion, age, sex and sexual orientation, characteristics that are protected under the Canadian Human Rights Act and the Criminal Code.
Over the past decade, attempts to pass similar legislation have failed, but this is the first time it is backed by a government with a majority in the House.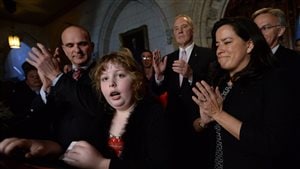 It is unclear how many transgender people live in Canada.
Estimates range up to 350,000.
Amanda Ryan was one of the supporters of the legislation in attendance.
She is chair of the outreach committee for Gender Mosaic, a transgender social and support group in Ottawa, which is Canada's oldest.
She spoke by phone with RCI from Parliament Hill minutes before the justice minister's announcement.
Listen