Canada's Minister of International Development Marie-Claude Bibeau today pledged an additional $331.5 million in humanitarian assistance funding at the World Humanitarian Summit in Istanbul, Turkey.
Speaking to RCI from Istanbul, Bibeau's parliamentary secretary Liberal MP Karina Gould said the announcement is in response to the $20 billion general appeal by the United Nations for humanitarian crises across the world.
(click to listen the full interview with Karina Gould)
Listen
"We're going to be providing this assistance to over 25 partners, both at the international level but also Canadian partners that work on the ground in humanitarian crises and it will be going to over 30 areas around the world," Gould said.
Tuesday's announcement comes on top of $274 million in humanitarian and development assistance funding that focuses on emergency response, child protection and food security pledged by Bibeau on Monday, taking the total to $605.5 million.
"Canada is one of the largest contributors to humanitarian assistance in the world," Gould said. "We're very proud to be helping the most vulnerable and those who need it the most."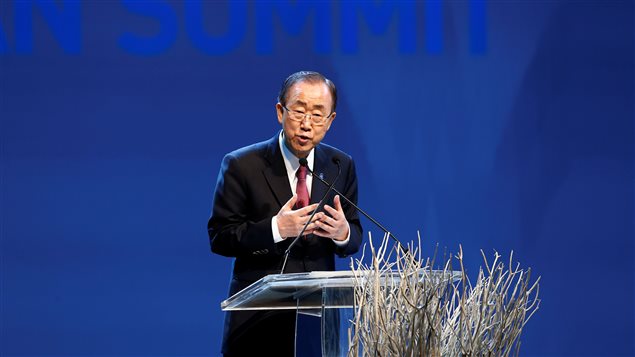 Cash for Security Council seat?
However, Conservative MP Deepak Obhrai, the Official Opposition critic on International Development, said the reasons for the Liberal largesse are not entirely altruistic and that Ottawa plans to use its development money to lobby for a rotating UN Security Council seat.
"That's where I'm going to hold them accountable, the fact that is this development assistance program or is this just to get political influence to win the Security Council seat," Obhrai said.
The opposition is also concerned about the Liberal announcement that they plan to conduct a complete review of their international development programs, while they pour hundreds of millions into new programs, Obhrai said.
Gould said the money pledged at the summit comes from "within existing and approved" departmental programs.
'First step'
Summit participants discussed the importance of working collaboratively with local partners on the ground, of building resilience in the affected communities, working with donor countries, international aid groups and NGOs to better address the needs on the ground, she said.
"It's about making sure that local voices and particularly the voices of women and girls – and another group that was mentioned the people with disabilities – are heard in this process to ensure that we are reacting to some of the serious issues on the ground," Gould said.
Responding to criticism from humanitarian groups such as Médecins Sans Frontières (MSF) Doctors Without Borders, which refused to attend the summit, arguing that the "summit has become a fig-leaf of good intentions," Gould said participants pledged to continue to defend humanitarian principles of neutrality, impartiality and respect for international law.
"This is a first step, this is the first time we had this conversation with the global community," Gould said. "It's going to be a process, it's not going to change overnight, but that being said we are continuing on this dialogue, and it's a really important one to have."