Canadian Prime Minister Justin Trudeau plans to mix some business with pleasure during his packed trip to Japan for bilateral talks and the Group of Seven summit.
Trudeau has cleared his calendar for Wednesday of any official business, so he can celebrate his 11th wedding anniversary with his wife Sophie Gregoire Trudeau.
The couple will spend the night at a traditional Japanese inn — or ryokan — before Trudeau heads to the G7 summit on Thursday in the country's Ise-Shima region.
"The fact of the matter is we've been working extremely hard today and will be at the G7 meetings on Thursday and Friday, and in the middle of all this, I'm taking a moment to celebrate — on personal funds — my wedding anniversary with my wife," Trudeau said of the down time when asked during a news conference whether it would cost taxpayers anything, including the potential financial burden of idle staffers.
"This is the kind of work-life balance that I've often talked about as being essential in order to be able to be in service of the country with all one's very best and that's certainly something I'm going to continue to make sure we do."
Busy schedule
The Trudeaus wrapped up a busy day on Tuesday in Tokyo that included visits to the Meiji Shrine and with the Japanese emperor and empress at the Imperial Palace, as well a dinner with Prime Minister Shinzo Abe.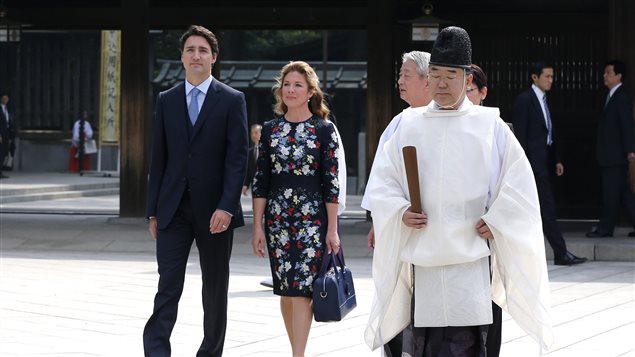 Trudeau held working meetings earlier in the day with Abe and executives from the Japanese auto sector.
During the meeting with Abe, the two leaders discussed a wide range of issues important to Canada and Japan, including the implementation of the Paris Agreement on climate change, global health initiatives, infrastructure for sustainable growth, and collaboration on Arctic science, said a statement from the Prime Minister's Office.
They also discussed the revitalization of the 40-year-old Canada-Japan Joint Economic Committee, which focuses on cooperation in such sectors as infrastructure, energy, science and technology, the business environment, promoting investment and tourism.
"Improving trade relations with Japan is a top priority of our government," Trudeau said in a statement. "The growing collaboration between Canada and Japan – on innovation and science – will contribute directly to our economic growth, and will benefit all Canadians."
Japan is Canada's fifth largest trading partner. The two countries are also partners in numerous international groups and organizations including the G7, G20, APEC, the ASEAN Regional Forum, and the OECD.
With files from The Canadian Press