CINAR, once the power-house of Canadian animation, came to an end in guilty verdicts today for three men. Ronald Weinberg, the founder of the company, and associates Lino Matteo and John Xanthoudakis were found guilty on most charges they faced for an elaborate, $120-million fraud orchestrated at the defunct children's television production company.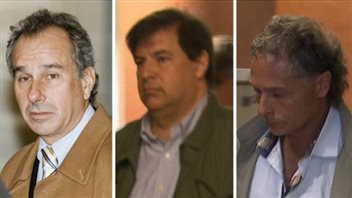 At one time CINAR created the Emmy Award winning Arthur, based on the award-winning books by American Marc Brown. It also produced other children's programs such as, Wimzie's House, The Adventures of Paddington Bear and Are You Afraid of the Dark? shows that were a hit with children in 150 countries around the world.
The longest jury trial in Canadian history
Today's verdicts bring to a close the longest jury trial in Canadian history. The criminal trial began in May 2014.
Ronald Weinberg founded the company with Micheline Charest, his late wife, back in the mid-1980's, as a distribution company.
He and his associates faced several charges including, fraud, forgery, using fake documents and publishing a false prospectus.
Found guilty of nine of the 16 charges against him, Weinberg was acquitted of seven charges, including making and using false documents.
Lino Matteo, who ran the Montreal-based investment firm Mount Real, was found guilty of nine of 11 charges against him.
John Xanthoudakis, the former president and executive director of Norshield Financial Group, a Montreal-based hedge fund operator, was found guilty of all 17 charges against him.
Cinar's former chief financial officer, Hasanain Panju, also charged in the CINAR scandal, pleaded guilty prior to this trial and was sentenced to four years in prison. He later testified for the Crown in the trial of Weinberg, Xanthoudakis and Matteo.
The three men face a maximum of ten years in prison, and were taken into custody immediately after the hearing today.
Matthew Ferguson, the Crown prosecutor in the case, told CBC News that the results are proof that "despite the complexity of the evidence, it's still possible to hold a jury trial in a fraud case."
"I think the jury rendered a good verdict, under the circumstances," Ferguson said.
Sentencing arguments begin Monday.