Bloomsday, June 16th, is the day James Joyce immortalized in his opus, 'Ulysses'. The story of Leopold's Bloom 1904 day in Dublin, it is patterned on the Odyssey.
Listen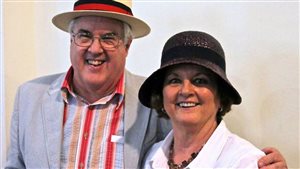 In Dublin it's now a major festival with celebrations taking place on many of the original sites. In Canada, the occasion is celebrated in various manners in several locations, but in Montreal it has taken root over the last few years, and become a five-day affair.
David Schurman is the president of the Festival Bloomsday Montreal. Along with his wife and partner, Judith, and a crew of committed volunteers, they have created a celebration of the words and wit of Joyce, and other Irish literary lions. This year there is a nod to Samuel Beckett.
From the academic gatherings that help to provide an insight into the peculiar genious that is Joyce, to the social and celebratory side of Irish culture, Montreal's Bloomsday line-up has something for everyone.
In Toronto meanwhile, the activities will begin bright and early on June 16th with an event called 'Bloom on the Beach(es)' at Kew Gardens in the city's Beaches neighbourhood. Toronto's celebration of the occasion has continued for 31 years.