Have you noticed that your children are going to bed later and later, and are too sleepy during the day?
That might have something to do with the fact that they are not getting enough exercise and are spending too much time in front of their screens, according to the 2016 ParticipACTION Report Card on Physical Activity for Children and Youth.
Allana LeBlanc, knowledge manager at ParticipACTION, said for the fourth year in the row the report gives Canadian children a D- for overall physical activity.
"This is primarily informed by the fact that only nine per cent of Canadian kids are getting enough physical activity," LeBlanc said.
(click to listen the full interview with Allana LeBlanc)
Listen
Heart-pumping activity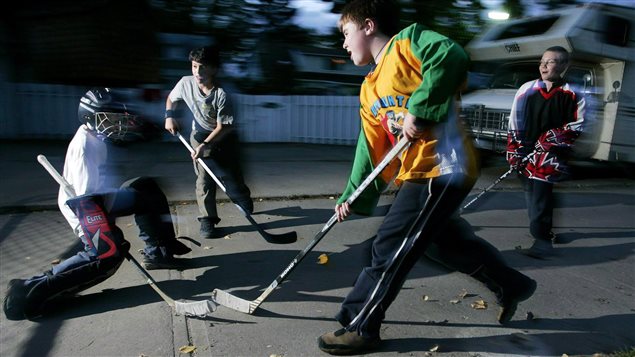 Children need at least 60 minutes of moderate to intense physical activity a day, LeBlanc said.
New research shows that these sedentary lifestyles are connected to a creeping 'sleepidemic' in Canadian children and youth, says the report.
"What we are seeing, and more and more evidence is out there to support this, is that if kids aren't getting enough sleep, they're probably not getting enough physical activity because they are too tired, they are just not able to move," LeBlanc said. "On the flip side they are not getting enough physical activity during the day, they are not moving around, they're not engaging their muscles, sweating a little bit. They are not actually tired at night, so they're not sleeping as well."
On top of that, sedentary behaviours, especially screen time sedentary behaviours, like playing on a computer, watching TV, using the tablet is impacting children's sleep, LeBlanc said. Yet only 24 per cent of Canadian children are meeting screen time guidelines of no more than two hours per day.
'Vicious cycle'
"Sleep deprivation is becoming a problem for Canadian children and youth, creating an insidious threat to their mental and physical health," says Dr. Mark Tremblay, chief scientific officer at ParticipACTION Report Card and director of the Children's Hospital of Eastern Ontario Research Institute's Healthy Active Living and Obesity Research Group (CHEO-HALO).  "It's time to take a whole day approach – many kids are too tired to get enough physical activity during the day, and not active enough to be tired at night – it's a vicious cycle."
To combat this "vicious cycle" the 2016 ParticipACTION Report Card includes new Canadian 24-Hour Movement Guidelines for Children and Youth.
"These movement behaviour guidelines really explain how kids should sweat, step, sleep and seat throughout a 24-hour period," LeBlanc said. "Each of these behaviours really interacts and impacts the other."
'Wake-up call'
The report also claims that on average children are sleeping 30 minutes to an hour less than in the past decades. About 31 per cent of school-aged kids and 26 per cent of adolescents in Canada are sleep-deprived, the report claims.
Being deprived of enough sleep can cause hyperactivity, lower IQ scores and produce adverse hormonal changes like those associated with increased risks of obesity, diabetes and hypertension, says the report.
"Our tendency may be to cram more into each day to wear kids out, but a full schedule of activities doesn't necessarily equal more physical activity," said Elio Antunes, president and CEO at ParticipACTION.
"It's time for a wake-up call.  If we want to improve sleep in our kids, we need to get them off the couch and away from their screens with regular, heart-pumping activity."