Mexican President Enrique Pena Nieto discussed trade during a meeting with Quebec Premier Philippe Couillard in Quebec City before heading to Toronto for an official dinner with Prime Minister Justin Trudeau.
While Pena Nieto received full honours complete with a ceremonial guard in Quebec City's historic citadel, Couillard said he did not shy away from discussing Mexico's controversial human rights record with his guest.
"This question of human rights is important for Quebecers," Couillard told reporters in Quebec City after meeting with Pena Nieto.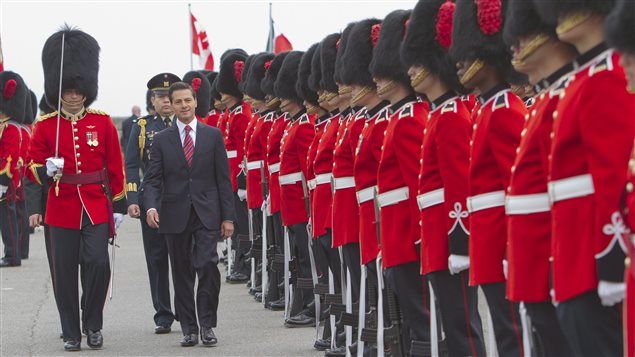 For his part, Pena Nieto said he's committed to addressing some of the criticisms raised by human rights groups.
Earlier this month, a report released by six human rights groups accused Mexico's criminal cartels and government security forces of committing crimes against humanity, during the country's decade-long drug war, which has taken the lives of more than 150,000 people since 2006.
Couillard said Pena Nieto has started ambitious reforms in his country and that Mexico's allies should increase trade and communication with their NAFTA partner in order to show support.
Quebec and Mexico in 2015 created a joint commission to push for more co-operation between the two jurisdictions on matters related to green energy, information technology, climate change and academia.
With files from Marika Wheeler, Janyce McGregor of CBC News and The Canadian Press