The 35-metre long Draken Harald Harfagre made its voyage successfully across the Atlantic without a lot of modern day aids and comforts to the shores of Newfoundland.
The plan was to continue up the St Lawrence and into the Great Lakes to take part in a number of celebrations and stops in both Canada and the US.
However, in June at Brockville Ontario, it was advised that it needed a pilot according to US laws, and a pilot is expensive at $400 an hour.
The crew said they were under the impression that pilotage rules applied to ships 35 metres and over, and the Drakken Harald is just under 35 metres.
However, the Americans classify the waters west of Cornwall,Ontario on the St Lawrence to be international and the entire Great Lakes to be international waters as it touches two countries and that under US law, pilots are required for all commercial vessels in international and American waters of the Great Lakes.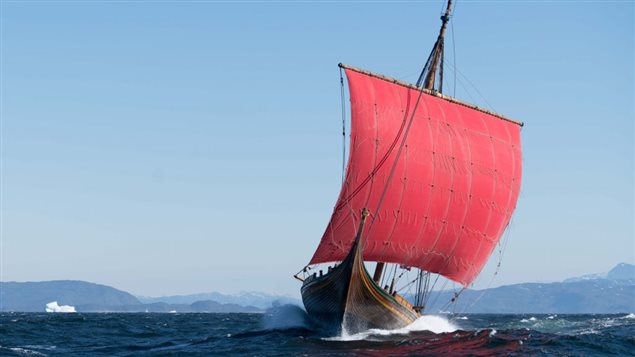 The Draken had no budget for a pilot at those costs which would amount to about $400,000 for the Great Lakes tour, and nearly sailed home. A crowd funding campaign, and severe belt tightening by the crew allowed the ship to continue its plans for the Tall Ships gathering in Fairport Harbour near Cleveland on Lake Erie for July 7-10th.
It then headed for Bay City Michigan, but is stalled there instead of heading to the Duluth Tall Ships festival after again being approached by the US Coast Guard and told that it had to hire a pilot.
This time it comes down to whether the Draken Harald is a commercial ship. The US authorities say because the ship charges admission is it engaged in commerce. A spokeswoman for the ship told Mlive, "For us to have tickets, admissions or appearances, it's not a commercial interest, "It's because otherwise, we are not able to fund our expedition at all".  She says the ship is a non-profit sail training vessel.
Without more funding the ship will have to cancel the rest of its North American tour and return to Norway.
However,  a petition has been created on Change.org to be exempted from pilotage requirements. There are now almost 11,000 signatures.
additional information-sources