Like many parents, Nancy Mike and Andrew Morrison have to work hard if they want to preserve their aboriginal language. Because so much English is spoken in Iqaluit in the northern territory of Nunavut, they have decided to ban English at home and oblige their two daughters to speak their native language of Inuktitut, reports CBC.
"Language is not just language; it's the way you transmit culture," said Mike to CBC reporter Sima Sahar Zerehi. Mike said she wanted to be certain the girls were able to speak to her unilingual grandfather and great-grandfather and to be close with the extended family.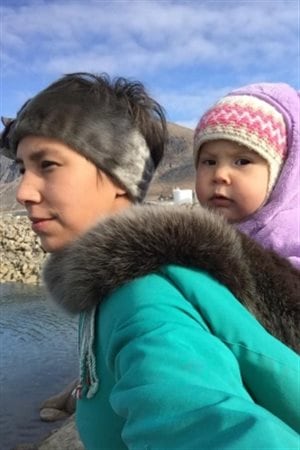 English is everywhere
Preserving the language is difficult because English in books, movies, toys and movies is ubiquitous. Although the school system has an Inuktitut stream, materials are most often in English.
When Mike reads English books to her children she translates on the spot.
Total immersion with extended family
Four or five times a year she and her partner send their children to visit relatives in the more remote town of Pangnirtung where they can spend time with family and be totally immersed in their native language.
They also enjoy the lifestyle which includes spending more time on the land and eating what's called country food—food hunted or gathered locally.