Leaders from the world's top economies agreed at a summit in China on Monday to coordinate their macroeconomic policies and oppose protectionism, but offered few concrete proposals to counter growing challenges to globalisation and free trade.
In a joint statement released at the conclusion of the G20 summit in Hangzhou, Chinese President Xi Jinping, U.S. President Barack Obama, and the leaders of Britain, Japan, Russia and other Group of 20 nations pledged to boost sluggish global growth by promoting innovation.
"The global recovery lacks momentum," Xi told reporters after the meeting. "We need to do more to unlock the potential for medium and long-term growth."
However, the communique made no mention of coordinated stimulus measures to reinvigorate the sluggish global growth. Officials acknowledged earlier that any common stimulus strategy would be hampered because economic conditions vary widely from country to country.
The World Trade Organization is forecasting global trade growth this year at just 2.8 per cent — its fifth year below three per cent.
The International Monetary Fund has cut its outlook for global economic growth to 3.1 per cent.
Fair trade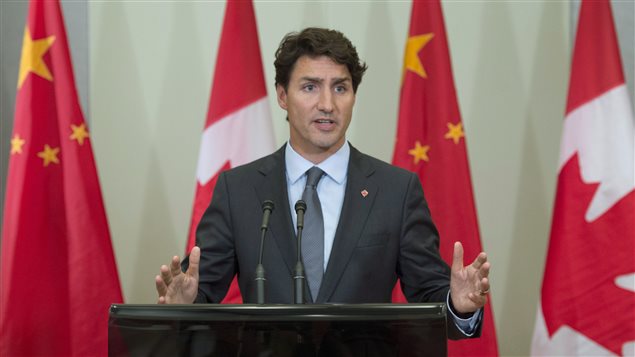 In a statement issued Monday, Prime Minister Justin Trudeau called for the implementation of growth strategies and increasing the collective gross domestic product by two per cent by 2018.
Trudeau also underlined the importance of ensuring that the benefits of free and open trade and investment are broadly shared and evenly distributed among all citizens, said a statement from the Prime Minister's Office.
"Throughout the Summit, I encouraged fellow global leaders to focus on inclusive growth that supports the middle class and those working hard to join it," Trudeau said in a statement. "The benefits of growth cannot only be felt by the wealthiest one percent – they need to be felt by everyone."
International Monetary Fund Managing Director Christine Lagarde, speaking after the summit, also said more inclusive growth was a priority in the global economy.
"We need increased growth, but it must be better balanced, more sustainable, and inclusive so as to benefit all people," she said.
Steel overcapacity
Obama, Xi and other leaders called during the meeting for governments to defend free trade.
"The benefits of trade and open markets must be communicated to the wider public more effectively," the joint statement said.
At the same time, China is facing complaints that a flood of low-cost Chinese steel into global markets threatens U.S. and European jobs, propelling the rise of protectionist political movements that promise to curb trade.
U.S. and European officials say the vast Chinese state-owned industry, which accounts for half of worldwide output, is the root of the problem. Washington has hiked import duties by up to 500 per cent on Chinese steel to offset what it says are improper subsidies.
With files from CBC News, The Associated Press and Reuters