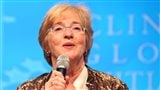 This is the fifth in the five part series on the growing concern over access to fresh water.
Maude Barlow's new book looks at what is happening in Canada and around the world.  It's called, "Boiling Point: government neglect, corporate abuse, and Canada's water crisis.
Today, international trade deals and water; a human right, or corporate commercial commodity.
Although it deals generally with the situation in Canada, it explains how and why the subjects touched upon are interconnected world-wide.
Ms Barlow, is the National Chairperson for the Council of Canadians, a non-profit group advocating on environmental issues, public health care, fair trade issues, and healthy democracy.
Listen