News of Homa Hoodfar's release from Iran's infamous Evin prison has raised fresh hopes for a detente in Ottawa's glacial relations with Tehran but a Canadian expert says restoring relations with the Islamic Republic is far from a done deal.
"It may be a sign that some progress is being made or could be made in the larger issue of re-establishing relations with Iran, so this was something the Iranians wished to do to help clear the decks for that," Peter Jones, associate professor at the Graduate School of Public and International Affairs at University of Ottawa and an expert on Iran, said last Tuesday reacting to news of release of the Canadian-Iranian academic.
On the other hand, there is also the possibility that Hoodfar's health had taken such a dramatic turn for the worse during her imprisonment that Iranian authorities simply didn't want to deal with the public relations fallout had she died in their custody, Jones said.
Former Conservative Prime Minister Stephen Harper cut Canada's diplomatic ties with Iran in September 2012, when he closed the Canadian embassy in Tehran and expelled Iranian diplomats from Ottawa.
In January, Liberal Prime Minister Justin Trudeau's government lifted most sanctions imposed on Iran after Tehran reached a deal with international powers to curb the country's contentious nuclear program.
Hurdles to overcome
However, there are some issues between Canada and Iran that make it difficult to imagine that there will be some rapid movement on reestablishment of relationships unless those issues are dealt with, he said.
"Primarily for the Iranians Canada has listed Iran as a terror supporting country under the Justice for Victims of Terrorism Act and the Iranians have made it pretty clear they want that listing to be dropped and the Canadian side has said it won't do that," Jones said. "So, unless either side is going to change its position on that particular issue, dramatic breakthrough seems to be unlikely."
Still, there are things Ottawa and Tehran can do short of reopening embassies to begin the process of re-establishing diplomatic relations, Jones said.
"For example, diplomats who are present in other countries can be cross-posted, they can be accredited to be representative in Iran and in Canada," he said.
(Click to listen to the full interview with Prof Peter Jones)
Listen
Trade, consular relations and geopolitics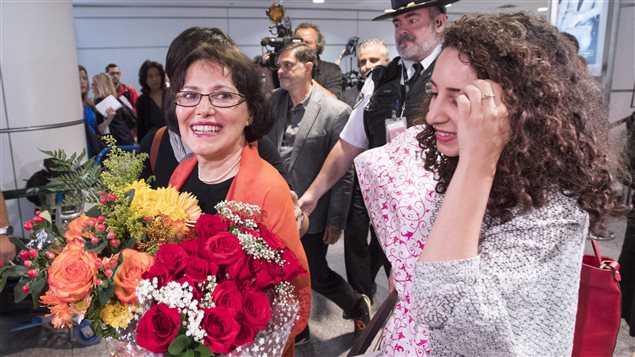 There are a number of interests that would be served by re-establishing relations with the Islamic Republic, not least in the area of trade, Jones said.
"Iran is a country which is, at least potentially, emerging from a period of relative isolation, at least isolation from Western countries with the signing of the nuclear deal," Jones said. "With the removal of the sanctions there is a potential for Iran to grow quickly."
Iran's aviation industry desperately needs new aircraft and Canada's Bombardier, which produces civilian aircraft, could be a major benefactor of closer trade ties with Iran, Jones said.
The reestablishment of ties with Iran will also facilitate dealing with consular issues as well, especially given the large number of dual Canadian-Iranian nationals, he said.
It's always much better to have a diplomatic presence on the ground to try and when trying to help Canadians who have run into some sort of problems in Iran or any other country, Jones said.
And there is the fact that Iran is a very important player in the Middle East.
"We may not agree with a lot of their policies but what they do has a dramatic influence on the region," Jones said. "And it's always better for a country like Canada to have an embassy there, to have ears on the ground to know what's going on in the way that only an embassy gives you in terms of helping us to fashion our policies."