Haiti is in crisis in the wake of Hurricane Matthew which ravaged the island 6 days ago. Over 1,000 people died and several hundred thousand are now in dire straits facing a growing cholera outbreak.
Tens of thousands of homes were obliterated and widespread power outages are leaving people with few resources.
The Canadian government sent the Canadian Disaster Assessment Team (CDAT) to Haiti on Thursday, and set aside up to $3 million (Cdn) as an initial humanitarian response for those in Haiti and other countries in the region affected by Hurricane Matthew.
"In terms of destruction, environmental and agricultural, I can tell you 2016 is worse than 2010,"
Guillaume Silvera is a senior official with the Civil Protection Agency in the storm-blasted Grand-Anse Department, which includes the city of Jeremie. Silvera said at least 522 deaths were confirmed in that are alone, and this does not include people in several remote communities that are still isolated by collapsed roads and bridges.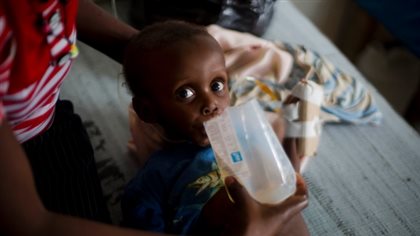 More than a dozen people have died from cholera so far and that total is expected to soar as the disease takes its toll very quickly.
Cholera was brought to the island with the emergency workers who came in the wake of the earthquake disaster over five years ago.
With the contamination of water supplies due to the storm surges that came with the hurricane, people are desperate for safe water.
The poorest country in the Americas, with a population of over 10 million people, is at work repairing and trying to survive this latest disaster.
The United Nations is asking for $120 million (US) to help the people survive the devastation. The province of Quebec, which has the largest Haitian populaltion outside Haiti, has offered $100,000 (Cdn). and fundraising efforts in Montreal are ongoing.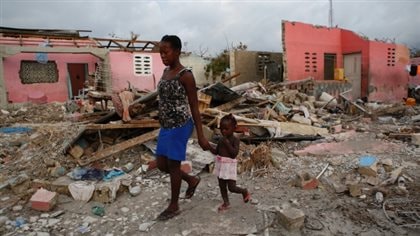 "It seems to me like a nuclear bomb went off," Paul Edouarzin, a United Nations Environmental Program employee based near Port-a-Piment, told CBC News.
"In terms of destruction — environmental and agricultural — I can tell you 2016 is worse than 2010," he added, referring to the devastating 2010 earthquake from which Haiti has yet to recover.
Food shortages will be exacerbated by the devastation to the agricultural sector in the southeast area of the island. Described as Haiti's breadbasket, the region's coffee and banana crops was destroyed and the fields of plantain were flattened into a leafy mush. People are relying on felled coconuts for food and water.
The stench of death, both human and animal, is said to be overwhelming with corpses lining shorelines and floating in rivers.