When the snow begins to pile up in winter there is nothing more fun for children than to tunnel into it to make forts and igloos. However, there is a danger that the snow will collapse and there have been cases of children suffocating and dying under the weight of it.
'Snow is very unstable'
That kind of worry prompted a former slalom skier to create a plastic structure to keep kids safe. "I have two little boys that are now seven and four years old. And when we started playing in the snow together trying to build forts and igloos it was very difficult because we don't have the tools to do this," says Eric Villiard.
"And, as we all know, snow is very unstable and it can collapse at any time and I'm really worried about that. So, this is when I had the idea of having a plastic structure that would withstand the weight of the snow and it would be easier to make an igloo because you have a structure."
Listen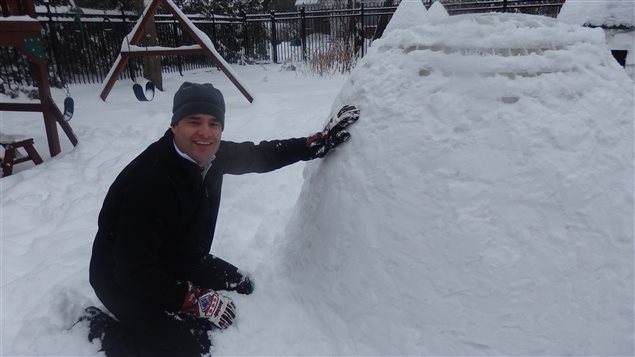 Products designed to use year round
Villiard wasn't sure how to go about making such a thing. After consulting students at a Montreal university, he hired an industrial designer. Then, armed with a plan, he proceeded to cut sheets of plastic in his garage.
The final product called the Play Snow Igloo is made of 17 sheets of lattice work that clip together and are strong enough to withstand the weight of snow and children who may climb on it.
'What kids love'
"The snow has to be a little bit sticky so that it holds on to the structure. And it works perfectly. You can make the perfect igloo and this is what the kids love," says Villiard, laughing.
The structure is 1.5 metres in diameter and 1.2 metres tall. When the snow melts, the structure can be covered with a tarpaulin and used for the rest of the year.
A castle too
It sells for about $300 on the Kickstarter website and Villiard starts negotiating next week with big retailers to convince them to carry the structure in their stores. He plans to deliver the product to clients before Christmas, this December.
If all goes well, Villiard hopes to expand the project by designing a castle and a play house that can be attached to igloos.
"It'll be a lot of fun."