Canada's Governor General David Johnston has had to perform a minor political miracle as he continues his visit to the Holy Land on his first trip to the Middle East.
As the representative of the Queen, Canada's head of state, the Governor General plays a largely ceremonial role, but Johnston has been given the delicate task of signalling at the highest levels a subtle shift in Ottawa's position on the long-running Israeli-Palestinian conflict without alienating either side.
"Let me reaffirm Canada's commitment to work with Israelis, Palestinians and other partners to uphold the prospects of a two-state solution, and achieve a just and lasting peace," said Johnston, before a meeting with Israel's president Reuven Rivlin this morning.
Testing waters
At the behest of the Liberal government of Prime Minister Justin Trudeau, Johnston has embarked on an eight-day visit to Jordan, Israel and the Palestinian Authority in the occupied West Bank. It is the first official state visit by a Canadian Governor General to the Middle East.
He also met with Israel's Prime Minister Benjamin Netanyahu and toured the national Holocaust memorial at Yad Vashem in Jerusalem today. On Tuesday, Johnston visited three holy sites in Jerusalem's Old City, each revered by Christians, Jews and Muslims.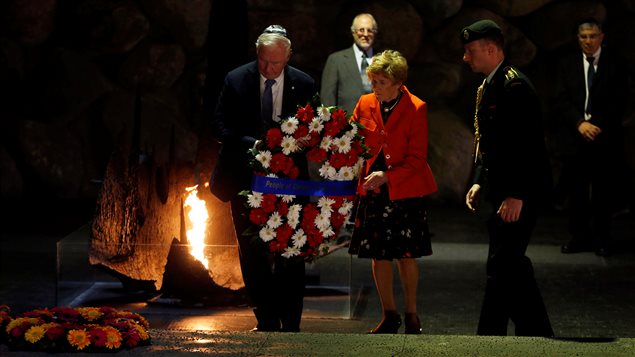 The Governor General's visit is seen as a test run for Trudeau's upcoming trip to the region.
It comes amid attempts by the Trudeau government to distance itself from the policy of the previous government of Conservative Prime Minister Stephen Harper who was seen by some as being too close to the Israeli government, and, in particular, to Netanyahu's Likud Party.
Connection to Syria's refugees
Johnston will meet with President of the Palestinian Authority Mahmoud Abbas on Friday. His visit to the West Bank includes a stop in Bethlehem, the birthplace of Jesus, according to the Bible.
The Governor General began his visit in Jordan, where he visited the largest camp for Syrian refugees, home to 79,000 people who have fled the civil war.
He has welcomed hundreds of Syrians as they arrived in Canada, and four of his daughters have helped sponsor Syrian refugees.
With files from Derek Stoffel of CBC News