Kevin Wiseman had to dive to the bottom of an icy lake three times before he was able to locate and drag his wife out of their trail grooming vehicle, reports CBC News.
Wiseman went out onto the land near Val-des-Monts in the province of Quebec on January 18th to groom snowmobile trails. His wife, Audrey Berndt, often goes with him, she says, in case something goes wrong. And something did.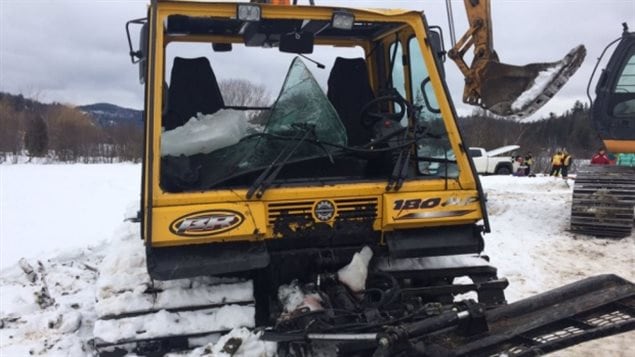 An all-too-frequent kind of accident
Wiseman was on an unfamiliar route and thought he was driving onto a field. It turned out to be a snow-and-ice-covered lake. The heavy vehicle broke through the ice and sank.
This kind of incident happens almost every winter, when drivers either lose their way or miscalculate the thickness of ice and fall through. Snowmobilers often cross lakes, as occasionally do cars and trucks to take shortcuts or transport fishing shacks onto the ice.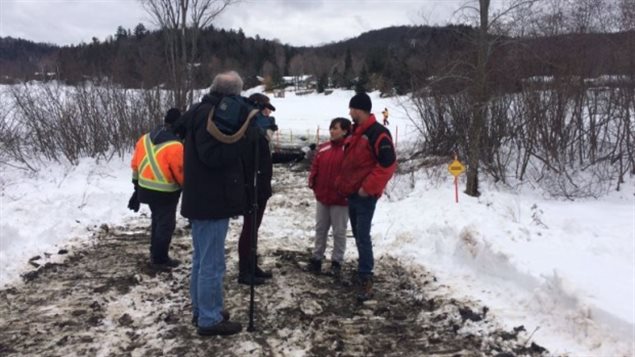 Impossible to open doors, windows
When vehicles sink, water rushes in making it impossible to open doors and windows to escape. In this case, Wiseman tried to use his hands to punch though the windshield but was unsuccessful. He then used his head to butt the glass. It broke and he escaped.
'This is how I'm going to die'
But his wife did not. Berndt recounted to CBC that as water filled the cab, "I took two gulps. I said, 'This is how I'm going to die. No more kids, no more husband. They're going to lose us both.'"
'You're going back under'
When Wiseman saw his wife had not surfaced, he dove back down through the frigid water to find her. The first time he could not locate her. The second time he did not have enough air. The third time took a deep breath and, as he told CBC, "Something in my head said, 'You are going back under. You're staying there, if you don't have your wife,'"
As he dove, Berndt says she shifted over to the driver's side of the vehicle, and then, "I felt his hand, and he just yanked me right out of there," she told CBC.
'If not for him, I would not be here'
Upon surfacing, Wiseman half carried, half dragged his wife to a nearby cabin. As luck would have it, the woman who opened the door was a nurse and was able to care for them while waiting for emergency responders.
Berndt was believed to be suffering from hypothermia and was taken to hospital by ambulance. She was released several hours later.
"I call him my hero. If not for him, I would not be here," she told CBC.