Higher gasoline prices helped push Canada's annual inflation in January to 2.1 per cent, well beyond the 1.6 per cent increase most economists were expecting.
Gas prices went up by 20.6 per across the country compared to the year before, increasing transportation costs, the main contributor to the higher inflation rate, by 6.3 per cent, Statistics Canada reported Friday.
Shelter costs rose by 2.4 per cent, largely driven by higher prices for natural gas and fuel oil for heating.
Nick Exarhos, a senior economist at CIBC, said although oil prices are expected to stabilize around current levels for this year, that should be enough to keep energy as a significant positive contributor to headline inflation in the coming year.
However, that's unlikely to change the Bank of Canada's interest rate policy in the near future, Exarhos said.
"For the Bank of Canada, however, the focus will continue to be on the output gap, and notwithstanding strong employment growth, a soft trend in hours worked suggests that there's still ample slack in the Canadian economy," Exarhos wrote in his analysis of the latest Statistics Canada numbers. "As such, don't look for the Bank of Canada to change its tune—or its stance in monetary policy—anytime soon."
Cheaper food
Of the eight parts of the consumer economy that Statistics Canada tracks, only one got cheaper: consumers paid 2.1 per cent less for food in January than they did a year earlier, the fourth consecutive monthly decline.
The food purchased from stores index decreased 4 per cent year over year. The prices of fresh vegetables declined by 15.5 per cent, fresh fruit by 10.8 per cent and meat by 1.7 per cent.
However, prices for food purchased from restaurants were up 2.3 per cent year over year in January, matching the gain in December, the data agency reported.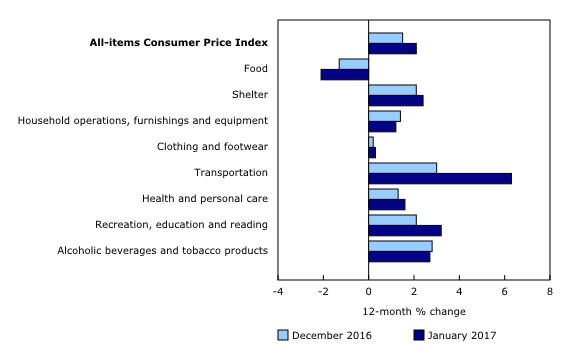 The report also found that year-over-year inflation rates were higher in every province last month compared to a year earlier.
In Alberta, the annual inflation rate hit 2.5 per cent last month after an increase of one per cent in December. Gas prices in Alberta climbed 33.9 per cent last month, a gain that Statistics Canada says was partly attributable to a new carbon levy in the province.
The agency said Ontario, which introduced a cap-and-trade program in January, saw a 20.4 per cent year-over-year increase last month in gas prices.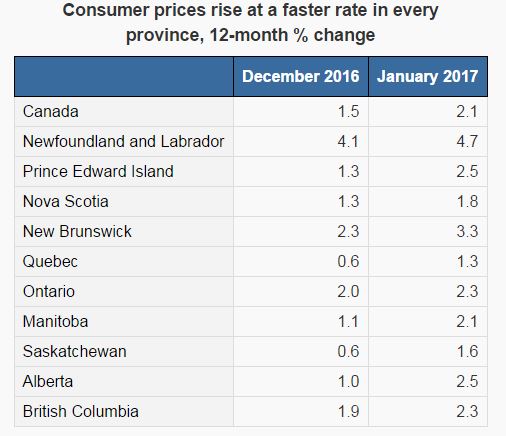 With files from The Canadian Press