It has become a sort of tradition at Canada Post to help push along the arrival of spring just a bit, by releasing spring flower stamps.
Canada Post is the government controlled Crown corporation which functions as the primary postal service in this country..
This year the plant featured on the domestic letter postal rate stamp is the daisy.
Two varieties are selected; The yellowish "Lakeside daisy" was named  after a shoreline village in Ohio, but is now found almost exclusively in Ontario along the Bruce Peninsula and Manitoulin Island which separate Georgian Bay from Lake Huron. It is listed as a "threatened" plant on both the federal and Ontario provincial species-at-risk lists as the perennial thrives in areas of exposed bedrock and thin soil, which are often areas prone to development.
The other is the lavender coloured "Showy fleabane" found in wet meadows and open forests at higher elevations  in Alberta and British Columbia.
As this is Canada's sesquicentennial year, all stamp issues in 2017 will include references to Canada's sesquicentennial. For the Daisies issue, the words "Canada 150" are printed on the stamps in microtype.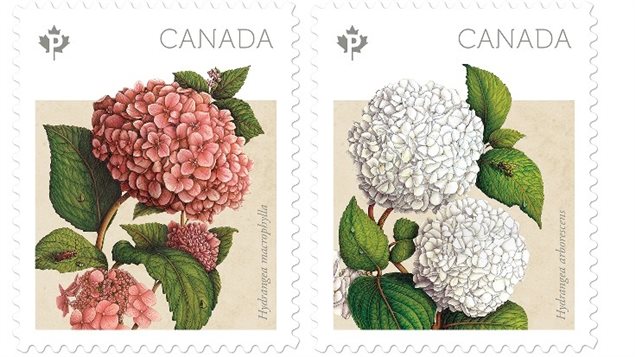 Last year's spring flower series featured the hydrangea, a name derived from the Greek hydro (water) and  angeion (vessel or jug) evoking the spherical shape of the open flower head.
The pink "Endless Summer" a cultivar of bigleaf hydrangea was chosen along with "Annabelle" a cultivar of smooth hydrangea with its white flowers.