Shane Wilson is a rare artist. Fascinated by the idea of carving at a young age, he has developed an art form that is almost unique to him alone.
Now an extremely accomplished sculptor, he works in the highly unusual medium of moose antlers, and horns from other animals.
Listen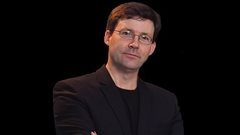 As he points out, antler is a different material than horn, and requires a delicate touch. He says that with the development of more sophisticated power tools, such as the types of drills and polishers used by dentists, that the ability to carve moose antler has been made easier.  This is especially so with the fine, intricate shapes and details he creates.
One must also realize that moose antlers are large, very large, heavy and awkward to manipulate,  usually with a span of nearly two metres.
He often works on commission as was the case for Yukon seasons which was commissioned by Adriano Bigotta, 1999. The piece is currently installed in the  Canada Games Centre in Whitehorse, Yukon
He says of this piece " The theme of this moose antler and skull set is the four seasons of the Yukon. Winter and Spring are represented by a variety of sharply angled patterns on the left antler – snowflakes, ice fog, stars and the break-up of river ice and features an Alaska-Yukon moose , Yukon wolf and Sandhill crane.  Summer and Fall are represented on the right antler by the swirling, curvaceous patterns of the sun, mountains, bushes and waterfalls and features three Grizzly bears, one fishing for Chinook salmon. The skull combines angled and curved patterns from all four seasons and features the Northern raven,Yukon's official bird for all seasons."
As an interesting aside, this particular piece has had an exciting history, having been stolen, recovered, survived a fire, and repaired after some accidents.
Because antler sets are each unique, like fingerprints in a way, an antler set may give him inspiration as to what and how to create within them. His own designs tend to be more, not abstract, perhaps allegoric would be more suited.
In Borealis and Oreiithyia, names inspired by Greek Gods of the north and mountain winds, he says, "The carved curves and swirls which flow between these mated antlers represent the phenomenal Yukon skies filled with the Aurora Borealis. I have many fond memories of laying on the ground gazing up at the multicoloured vortexes swirl, wrap, curl and whip across the night sky, periodically extending fingers of light straight down towards me, so close I imagined that by reaching up I could touch them with my own. The angled elements speak of powerful wind and mountainous height, while a smaller angled arrow on the left burr could be an abstract compass needle, pointing north."
While his work with antlers is certainly striking, he also works with other animal horns such as Dall rams, and muskox.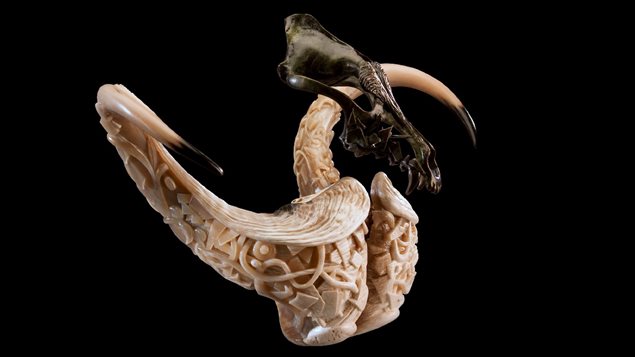 His fascinating work has been featured recently in the prestigious Canada arts magazine, Arabella, as a Canadian artist to collect.