Ottawa is working towards strengthening its defence and security ties with New Delhi and hopes the country's high-tech defence industries will make greater inroads in India's ambitious arms procurement program, says Canada's Defence Minister Harjit Sajjan.
India has been the world's number one arms importer in the last five years, according to a Swedish think-tank that follows global arms trade. India accounted for 13 per cent of the total global arms imports from 2012 to 2016, says the latest report by the Stockholm International Peace Research Institute (SIPRI).
In the last decade, India has increased its arms imports by 43 per cent, the report says. Russia remains India's top weapons supplier but the U.S., European Union countries, Israel and South Korea are increasingly vying for access to the lucrative market.
According to government statistics, in 2015 Canada exported nearly $5.4 million worth of arms and defence technology to India. And Ottawa wants a bigger share of India's defence procurement pie.
"As a wider government effort we are working towards increasing our relationship with India in many aspects and defence is an important relationship that we're progressing on," Sajjan said Friday during a teleconference call from Mumbai.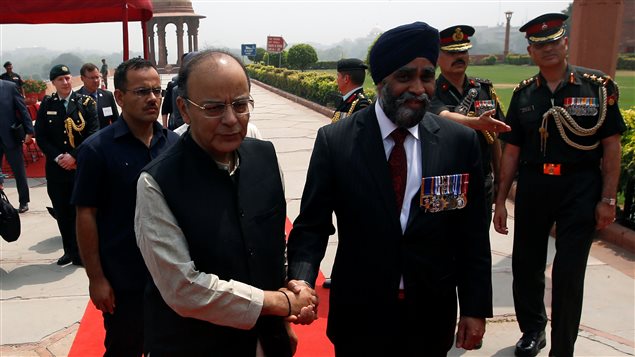 Canadian and Indian militaries have already trained together and deepening Canada's defence ties with India was discussed during a meeting with India's Defence and Finance Minister Arun Jaitley, Sajjan said.
"I spoke with him how we can move forward with this cooperation," Sajjan said. "We do have a handful of companies, approximately 20, with good working relationships and who are operating here in India and we'd like to increase that."
'Not without its challenges'
Christyn Cianfarani, president of the Canadian Association of Defence and Security Industries, said a number of large Canadian defence industry players such as CAE, the Montreal-based manufacturer of simulation technologies and training services for civil and military aviation, already operate in India.
"It is an extremely interesting market for Canadian companies although it is not without its challenges," Cianfarani said.
India has a very aggressive offset policy, called "Make in India," which requires foreign companies to effectively manufacture their products in India and transfer significant amounts of intellectual property into the country, Cianfarani said.
"And while that is a challenge for large companies – you can see in some cases they can overcome those challenges – it becomes quite an impediment for small and medium Canadian enterprises to meet that kind of obligation because, obviously, they have limited access to capital," Cianfarani said.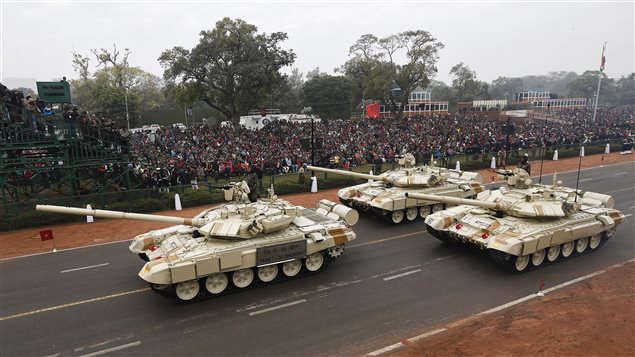 Still, Cianfarani believes defence industry cooperation with India has a lot of potential.
"It is a target market and it has very high volume, it is used to foreign direct investment, so the conditions are good," Cianfarani said. "But I think we would need to see some movement on how we manage the offset policies that are in place – whether that's through government to government or business arrangements and or policy relaxation."
It's all about building a relationship between the two governments and introducing Canadian companies to India at the same time as introducing Canada to Indian companies to "demonstrate to them what the art of possible is," Sajjan said.
"I look towards moving our defence relationship with India even further and potentially into an MOU (memorandum of understanding)," Sajjan said.
Busy itinerary
Sajjan, who immigrated to Canada from India with his family when he was five years old, arrived in India on April 17 on a seven-day official visit to discuss defence and security cooperation, trade culture and innovation.
It was Sajjan's first visit to India in his capacity as a cabinet minister, but he was the eighth minister in the cabinet of Prime Minister Justin Trudeau to travel to India since the Liberals took power in late 2015.
His itinerary involved meetings with Indian officials, including Defence Minister Arun Jaitley and External Affairs Minister Sushma Swaraj.
Canada's @NationalDefence Minister Harjit Sajjan inaugurates new Consulate General office in Chandigarh w. HC @nadirypatel & CG @CRLGibbins pic.twitter.com/7tba344iME

— Canada in India (@CanadainIndia) April 21, 2017
Sajjan, Canada's first defence minister of Sikh origin, also travelled to Amritsar home to the Golden Temple, the spiritual and cultural centre for the Sikh religion, as well as visited Punjab state capital of Chandigarh and India's largest metropolis, Mumbai.
In Punjab, Sajjan visited the Golden Temple and paid a brief visit to his native village of Bombeli in Hoshiarpur district where large crowds gathered to greet him. In Chandigarh, Sajjan inaugurated the new office of Canada's Consulate General and held a meeting with the Chief Minister of Haryana State Manohar Lal Khattar .