Three more police divers have arrived in the remote Indigenous community of Fort Chipewyan in northeastern Alberta to assist in the search for three hunters feared drowned in a freak boating accident last week.
The body of the fourth hunter was recovered Sunday not far from the place where the hunting party's boat was previously found in Wood Buffalo National Park, said Sgt. Jack Poitras, a spokesperson for the Royal Canadian Mounted Police.
Family members identified the dead man as Walter Ladouceur, a Canadian Ranger with the 4th Canadian Ranger Patrol Group.
The three new RCMP divers will join two of their colleagues who arrived in Fort Chipewyan last Thursday. They will be using side-imaging sonar and a torpedo sonar to find the missing hunters, Poitras said.
"We're also using dogs on the shore to see if they can pick up on anything," Poitras said. "We still believe they're in the water because we didn't find anything indicating they came out of the water. We're still hoping that we can locate them."
Police and Parks Canada officials began searching for Walter Ladouceur, his brother Andrew Ladouceur, Keith Marten and Keanan Cardinal, all experienced outdoorsman, on April 24 after they failed to return following a day-long duck hunting trip to a nearby area known as Devil's Gate, Poitras said.
Their boat with signs of damage to the stern and the bow was later found in the Rocher River that flows through Wood Buffalo National Park.
Police speculate that the hunters might have struck a chunk of ice and may have been thrown into the frigid water on the impact, Poitras said.
With the water temperature barely above freezing the men would not have survived long in the water, said Poitras, who has had experience racing canoes in the icy waters of Ottawa River.
"You don't swim too far in that water, your limbs just quit moving, your mind is telling your arms and legs to swim but your body just seizes up," Poitras said.
Mikisew Cree First Nation Chief Steve Courtoreille said while the weather has been good the search parties have to cover a lot of difficult terrain in the remote area accessible only by boat or aircraft.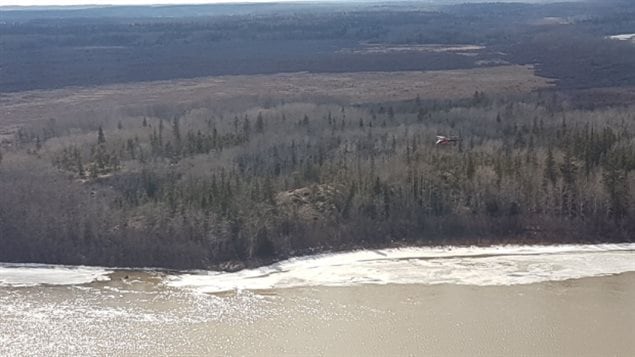 With files from CBC News