Canada is seriously concerned by the deteriorating human rights situation in the Crimean peninsula under Moscow's rule, said Foreign Affairs Minister Chrystia Freeland in a statement commemorating the 73rd anniversary of the forced deportation of Crimean Tatars by Soviet authorities in 1944.
"We reiterate our unreserved condemnation of Russia's illegal annexation of Crimea and our serious concern over the deteriorating human rights situation in the Crimean peninsula under continued Russian occupation," Freeland said in her statement.
"We continue to denounce the banning of the Mejlis, the governing body of the Crimean Tatars, and have called on Russia to reverse this illegal and immoral decision."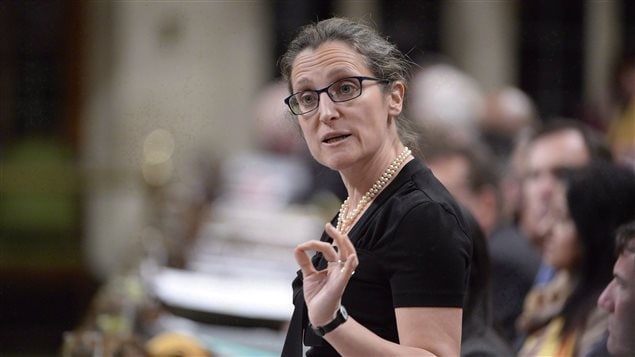 Russian authorities banned the activities of the Mejlis after Russia annexed Crimea in February 2014, following a military takeover and a controversial plebiscite that voted overwhelmingly to break away from Ukraine and join the Russian Federation, 60 years after Soviet leader Nikita Khrushchev transferred control over the Black Sea peninsula from Soviet Russia to Soviet Ukraine.
Many Crimean Tatars mindful of the tragic events of 1944 and the centuries of uneasy relations with Moscow had opposed the Russian annexation. The Mejlis was seen by Russian authorities as one of the main political centres of opposition to Moscow's rule in Crimea.
Human Rights Watch has accused Russian authorities of carrying out a ruthless campaign of supressing dissent in Crimea.
"Those who criticized Russia's occupation have been subjected to enforced disappearances, murdered, slammed with trumped-up criminal charges or banned," said a recent report by Human Rights Watch.
Some of the most outspoken leaders of the Mejlis have sought refuge in Ukraine, where they continue their fight for the political rights of Crimean Tatars and are calling for international recognition of the 1944 deportation as genocide.
Russia denies that its cracking down on dissent and accuses authorities in Kyiv and the West of using the Crimean Tatar issue for political gain.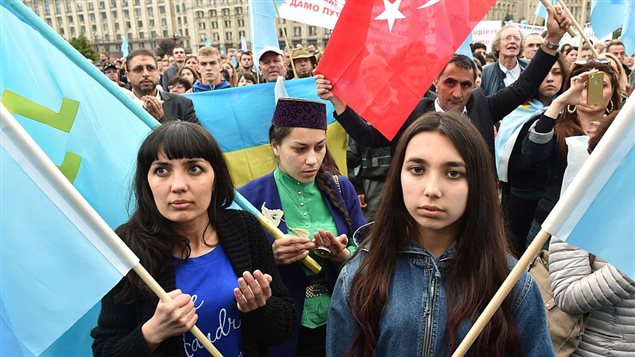 Soviet dictator Joseph Stalin ordered the deportation of Crimean Tatars, a Turkic speaking Muslim minority, from Crimea accusing them of collaboration with Nazi Germany and allied Romanian forces, which occupied the Black Sea peninsula from 1942 to 1944.
On May 18, just days after Soviet forces recaptured the peninsula following some of the bloodiest battles of WWII, over 230,000 Tatars, almost the entire Tatar population, along with other indigenous ethnic groups of Crimea – Armenians, Bulgarians, Germans and Greeks – were loaded into cattle cars and sent into exile in the Soviet Central Asian republics of Uzbekistan, Kazakhstan and Tajikistan.
Thousands died on the way from hunger, thirst, diseases or simply suffocated in tightly sealed box cars.
"On this solemn occasion, we remember the appalling loss of life and tremendous suffering endured by the hundreds of thousands of children, women and men deported from their ancestral homeland," Freeland said in her statement.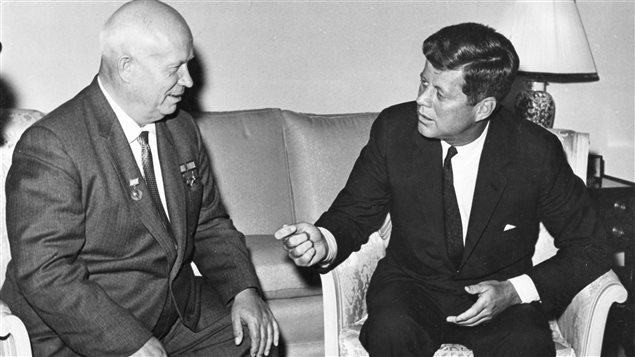 Khrushchev who became Soviet leader after Stalin's death transferred the control of Crimea from Soviet Russia to Soviet Ukraine in 1954 on the occasion of the 300th anniversary of Ukraine's incorporation into Russia.
However, Crimean Tatars were not allowed to return to their homeland in any great numbers up until mid-1980s when Mikhail Gorbachev launched perestroika.
The mass return of Crimean Tatars was only made possible in the dying days of the Soviet Union and after its break-up when Ukraine became independent.
Russia too has officially condemned the deportation of Crimean Tatars and other ethnic minorities from Crimea.
In April 2014, Putin signed a decree called "On the Measures for the Rehabilitation of Armenian, Bulgarian, Greek, Crimean Tatar and German Peoples and the State Support of Their Revival and Development." The decree directed authorities to undertake a range of measures to restore "historical justice" and to create conditions for the economic, cultural, and spiritual revival and development of affected communities.
May 18 has been declared a Day of All-Crimean Memory to commemorate all victims of the 1944 deportations.