Canadian officials have no plans to raise the country's terrorism threat level in the wake of a deadly suicide bombing that killed 22 people and injured 59 others at the end of a concert by U.S. singer Ariana Grande at Manchester Arena in northern England on Monday.
The government of British Prime Minister Theresa May raised the UK terror threat level from "severe" to "critical" on Tuesday, the highest level indicating that further attacks may be imminent.
"While we do not comment on specific threats or operations related to national security, we can say that Canadian national security and law enforcement partners monitor all potential threats and have robust measures in place to address them," Public Safety Minister Ralph Goodale said in a statement. "Canada's threat level remains at medium, and has been unchanged since October, 2014."
Nevertheless, Goodale urged Canadians to remain vigilant and to report any unusual or suspicious behaviour to their local police.
"Canada is fundamentally a safe and peaceful nation," Goodale said. "We will take all appropriate action to counter terrorist threats to Canada, its citizens and our way of life."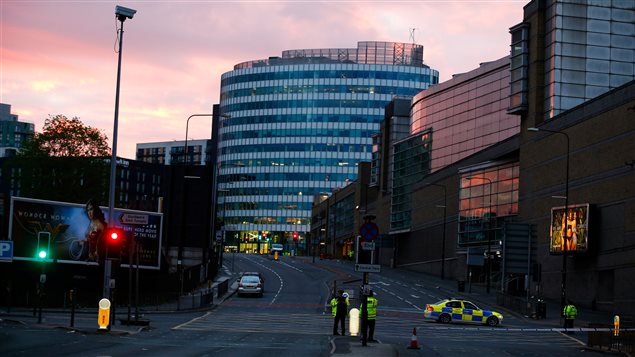 British police identified the suspected attacker as 22-year-old Salman Abedi, a British citizen whose family is believed to have immigrated from Libya. It is believed Abedi detonated an improvised explosive device packed with nails and bolts to cause maximum damage. Many of the victims are children under the age of 16.
"All acts of terrorism are cowardly," Prime Minister Theresa May said outside her Downing Street office after a meeting with security and intelligence chiefs.
"But this attack stands out for its appalling sickening cowardice, deliberately targeting innocent, defenseless children and young people who should have been enjoying one of the most memorable nights of their lives."
The so-called Islamic State group has claimed responsibility for the bombing calling it a revenge attack against "Crusaders," but there appeared to be contradictions in its account of the operation.
"The priority remains to establish whether he was acting alone or as part of a network," Greater Manchester Chief Constable Ian Hopkins said.
With files from Reuters