Canada's largest defence and security industry trade show got underway in Ottawa Wednesday morning amid peaceful protests outside the venue at the capital's EY Centre.
The annual trade show, which is celebrating its 20th anniversary this year, is hosted by the Canadian Association of Defence and Security Industries (CADSI).
It drew over 300 exhibitors and 11,000 registered participants from Canada and abroad. Soldiers, industry representatives, salesmen milled around the exhibits ranging from the advanced armoured personnel carriers and space communications technology, to munitions and software.
Defence Minister Harjit Sajjan delivered a major defence policy speech at the event. His cabinet colleague Minister of Innovation, Science and Economic Development Navdeep Bains was also present at the trade show.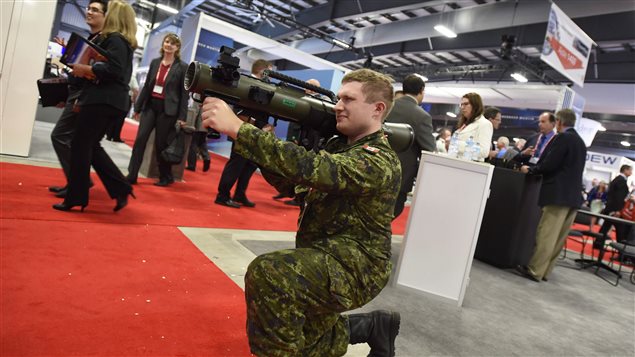 Over 65 foreign delegations participated the in the trade show – a modern version of an arms bazaar – scouting the floor for the latest advances in military technology.
Canada's defence industry contributed $6.7 billion to the country's economy in 2014 and accounted for 63,000 jobs, according to a report released by the CADSI, in partnership with Science, Innovation and Economic Development Canada and Statistics Canada.
The defence industry generates well-paying manufacturing jobs, the report says.
Canada's defence industry compensation is 60 per cent higher than the national average, according to the report. Engineers, scientists, researchers, technicians and technologists comprise over 30 per cent of the jobs in the defence industry, says the report called State of Canada's Defence Industry, 2014. Production workers make up another 40 per cent of the defence labour force.
The industry generated $9.4 billion in revenue in 2016, according to government statistics.