Canadian police descended upon in an apartment in eastern Montreal in relation to a knife attack on a police officer at Bishop International Airport in Flint, Mich., Radio-Canada is reporting.
The operation targeted an apartment on Bélair Street in the city's St-Michel neighbourhood that is connected to the suspect in the attack. U.S. authorities have identified the suspect as Amor Ftouhi, 50.
Ftouhi, who holds a Canadian passport, was arrested following the incident. David Gelios, the FBI agent in charge of the investigation, said Ftouhi entered the U.S. on June 16 via the land border crossing in Champlain, New York and arrived at the airport in Michigan Wednesday morning.
The FBI said it is investigating the stabbing of Lt. Jeff Neville "as an act of terrorism."
Neville, who was stabbed in the back and the neck is in "satisfactory condition," said Chief Chris Miller of Bishop International Airport Public Safety Department.
"He's doing fine, he's residing at a local hospital right now, he's resting comfortably," Miller said.
Neville was stabbed with an 12-inch serrated knife on the public side of Bishop International Airport's main terminal, officials said.
Gelios said the suspect shouted "Allah Akbar," which means "God is great" in Arabic, before stabbing the officer in the neck.
Ftouhi has been interviewed by FBI officials and is cooperating with the investigations, FBI officials said.
"He has a hatred for the United States," said Gelios. He allegedly made statements about the U.S. having killed people in Syria, Iraq and Afghanistan and, "We are all going to die."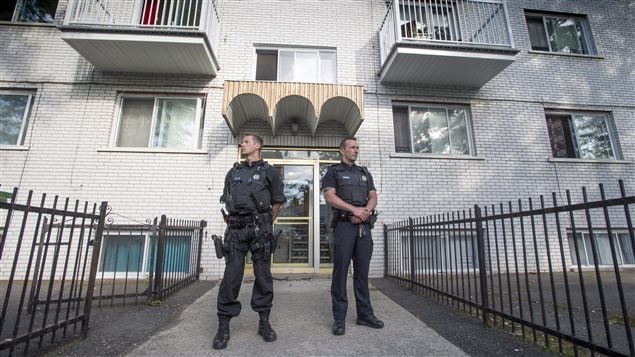 A Facebook profile under Ftouhi's name lists his birth place as Tunis, Tunisia. It claims Ftouhi studied at the Faculty of social sciences at the University of Tunis and at Sullivan College in Montreal.
Ftouhi's social media accounts did not contain any jihadist or extremist propaganda, according to Fadi Harouni, a journalist with the Arabic language service of Radio Canada International, who examined posts on Ftouhi's Facebook and Twitter accounts.
Gelios said preliminary evidence indicates the suspect acted alone and there is "nothing to suggest a wider plot."
With files from CBC News and Radio-Canada